Then there's Agar, the eccentric Peter Garrett look-alike who, like the Midnight Oil singer, continues to enthral onlookers in a career dotted with dizzying highs and frustrating lows – the latter of which are now becoming few and far between.
Together, the two have habitually smothered the run-rate of their opposition with increasing success, most starkly evident in Wednesday's ODI against India at Manuka Oval.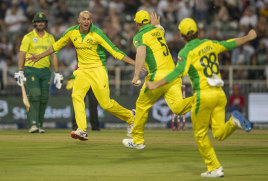 On a typically flat Canberra deck the pair conceded just 89 runs for three wickets between them, a contribution brought sharply into focus given the final seven overs of the innings (after their respective spells) went for 97, thanks to a Ravindra Jadeja and Hardik Pandya rampage.
Had it not been for the fireworks at the death, Virat Kohli's men would have struggled to push past 250, a death knell in the modern form of ODI cricket, and it was in no small part thanks for the stifling combo of Zampa and Agar who, despite turning it the same way, managed to keep the run rate below five an over across their respective spells.
A glance over their short history together in the ODI format shows their exciting potential to contain the middle overs, should the selectors persist with them both.
In their joint outings in 50-over cricket, only once have either gone for more than six an over, with Agar costing 63 runs in an outing against the Indians in Rajkot earlier this year.
Additionally, only twice have the opposition passed the 300 mark in the first innings against the two – the new par in 50-over cricket – a sign of their effectiveness in slowing the momentum of the opposition.
While Agar's calf injury may sideline him temporarily, his pairing with Zampa is an enticing prospect for the Australian squad as it prepares for the 2023 instalment of the 50-over World Cup – due to be held on the spin-friendly sub-continent.
Loading
And Zampa has made no secret of his desire to keep the flame alive between them.
"Everyone's trying to know their role and it's pretty obvious for Ash and I [our job is] to control the middle overs," Zampa said in an interview last January, speaking about the upcoming T20 World Cup.
"I think we've been doing that pretty well. It's something that we're continuing to work on. I enjoy not being the only spinner in the team."
Historically, the double-tweaker combo is something rarely employed by Australia. Indeed, Zampa and Agar have only lined up together six times in Australian colours for ODIs.
However, with the 50-over game now frequently seeing scores of 350 plus, and an Australian itinerary containing more trips to the subcontinent than ever before, Zampa and Agar might not just be a handy pairing for Australia, but a match made in heaven.