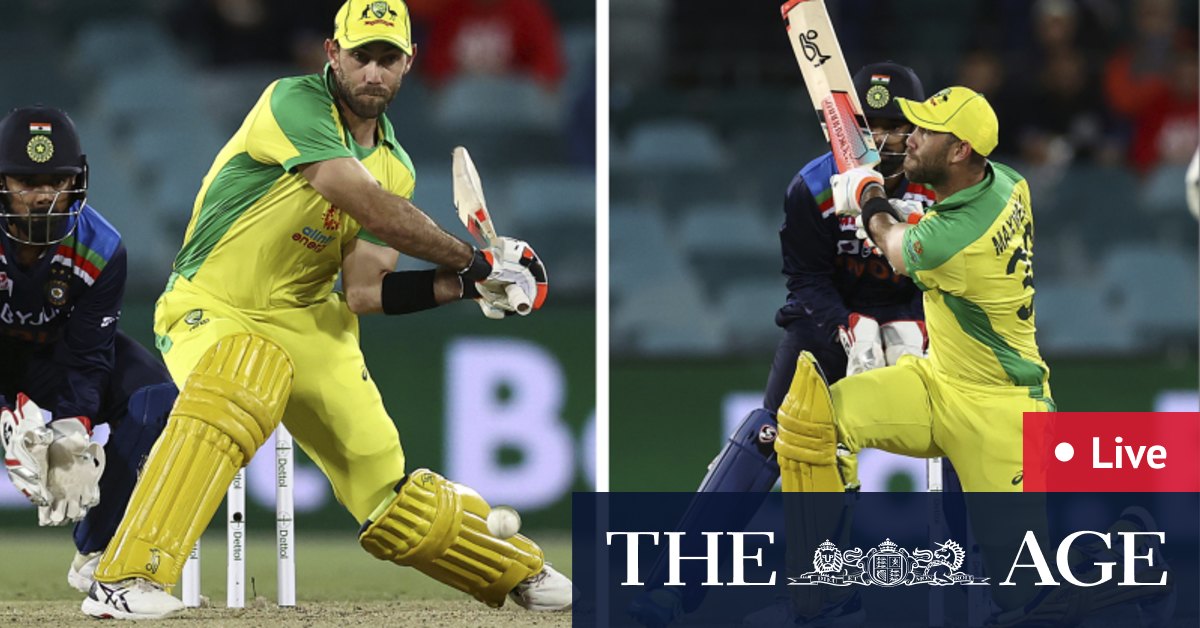 about a concussion sub for Jadeja. He did get a fair crack to the helmet before batting on to great effect.
Intent from Finch… back-to-back fours to open his innings. One flicked over mid-wicket, the next muscled through the covers. And now he's stretching a hip or a quad perhaps. A glut even, dare we suggest. Now D'Arcy Short in on the action as he cracks one back down the ground to the fence. Sharp start… Australia 0-14 after the first over.
No Jadeja in the attack for India, Short and Finch to get things started for the home side. An interesting discussion as well between match referee David Boon and Justin Langer in the tunnel under the stadium where the players emerge. We'll find out a little more later about that as Depak Chahar takes the new ball.
Ravi Jadeja gets them out of trouble with a spirited innings that somehow got even better when he injured his hamstring. He just stands and delivers and blasts 43 off 22 to propel India to 7-161. That's made a game of things, see you soon for the chase.
Digs that one out from Starc and finds the fence, beats the diving Abbott. This has been some knock from the injured Jadeja, who has 35 off 30. Make that 39 off 31! Starc tries another full toss and that gets the treatment it deserved.
Sundar clatters one into the helmet and it's dropped by Henriques but he's gone the next ball as he tries to send that Starc full toss back down the ground. Just too quick I think and he can't get it out of the screws. Another catch for Abbott but that as a good partnership (38) as Jadeja gets set to face the final three balls.
Let's see how well he moves. Pretty well by the looks of that… it's a big SIX over leg side off Hazlewood. And now a boundary, 19 of the over so far. Now Hazlewood goes to the fence again… huge from Jadeja! Hazlewood cops 23 from that over and India are back in play. Brave batting with an over to go.
That would be decent given how sluggish they have been tonight and the regularity of the fallen wickets. But some drama here as Ravi Jadeja stretches the hamstring and the trainer comes on to see what's happening. This doesn't look too good to be honest, getting that taped up, and he's a key bowler as well. Hard to see how he can contribute with the ball as he hobbles about.
He takes over as Henriques completes a super spell (3-22) but that's full and wide and is duly called as such by the umpire. He's sending them down at express pace… that last one was 148.7km… and Sundar somehow edges it between his legs and it races to the fence. India needed that. The take 12 from that, India 6-127 with two overs remaining.