The wonderful news is that before the second Test between the Wallabies and Argentina on Saturday night at Parramatta Stadium, Australia will take a small step towards catching up.
For, yes, after the visitors sing their Himno Nacional Argentino, a young singer from the Newtown Performing Arts School, Olivia Fox, will sing the Australian National Anthem in Eora language and then in English.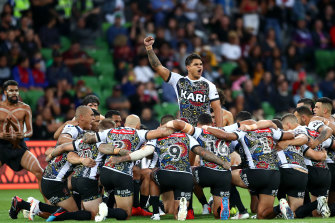 The NRL have done similarly ahead of an Origin and All-Stars games, but this will be first for Australia before an international sporting event, just as the Wallabies were the first national side to don a First Nations jersey.
Most impressively of all? The Wallabies will not only be wearing that enormously popular First Nations jersey, but have had regular practice sessions in the last week to learn the words and sing it strongly with Ms Fox.
And it has been more than a cosmetic exercise, more than an empty PR exercise, quickly forgotten.
To get this right, Rugby Australia also sought permission from the Metropolitan Local Land Council and consulted its own First Nations committee, who guided the team towards other activities which will help them appreciate the enormous significance of what they are doing.
Beyond learning the words, they have had a native foods session with First Nations chefs, a smoking ceremony in at the National Centre of Indigenous Excellence – where the match jerseys were smoked by local elders, and yesterday welcomed children from Yarra Bay House in La Perouse to their captain's run.
The whole exercise builds upon Australian rugby's strong and shining strand of Indigenous input – from the late Lloyd McDermott who made his debut in the early 1960s, through the fabulous Ella brothers of the 1980s to Kurtley Beale in the modern era.
Loading
"The lyrics," I am told by Rugby Australia, "are not a direct translation of the English words, but rather substitute meanings that reveal the Eora's deep connection to the land."
Bravo.
And yes, this exercise will likely deeply irritate our own old-time rugby curmudgeons such as Alan Jones and they may be counted on to strongly protest. But that is just a double-bonus.
The only thing more wonderful than this exercise would be if it was a first step towards the rest of us learning the words, with the Wallabies, and some day soon be able to hold our own with the Kiwis.
Australiagal ya'nga yabun
Eora budgeri
Yarragal Bamal Yarrabuni
Ngurra garrigarrang
Nura mari guwing bayabuba
Diara-murrahmah-coing
Guwugu yago ngabay burrabagur
Yirribana Australiagal
Garraburra ngayiri yabun
Yirribana Australiagal
Sport newsletter
Sports news, results and expert commentary delivered straight to your inbox each day. Sign up here.
Peter FitzSimons is a journalist and columnist with The Sydney Morning Herald.