That's all for us on the blog today. We'll be back tomorrow morning following the COVID-19 news of the day.
A quick round-up of the major stories of the day around the country:
Technical hitches have been blamed for this evening's three-hour delay on the opening of Victoria's new permit system, after Victoria's Chief Health Officer disputed comments from the Premier's Officers that the wait was due to his delay in signing the legal direction required to enforce the system.
Earlier this evening the spokeswoman from Premier Daniel Andrew's office also told The Age that the orders were expected to be signed by Mr Sutton at 7pm, hence the delay.
But Mr Sutton has since tweeted this evening that that information was incorrect, stating "directions were signed on time".
A government spokeswoman apologised for the inconvenience of the delays.
"The teams from DHHS and Service Victoria worked as quickly as possible to get the permit system up and running, as they worked to draft directions and experienced some technical issues," she said.
Those who have applied for permits already have reported a quick and easy process once the system came online just before 9pm.
Melbourne man Cameron Reiss, who has been waiting in regional NSW for border news with his partner has already got his hands on a permit which means the couple could, in theory, cross the border tonight.
"It was very simple and easy process, a map is provided with zones colour-coded green, orange or red. Travel restrictions/conditions for entry are clearly outlined by colour," he said.
"Permit arrived in my email inbox instantly."
For those of you hanging out for the last few hours for Victoria's new 'traffic light' permit system, it has finally just gone live – three hours after it was slated to open for applications.
You can apply here on the Service Victoria website.
Let us know how you find it, and whether your permit is approved.
Two new locations including a Bunnings Warehouse and bottleshop in Brisbane's south have been added to the list of contact tracer's concerns after the partner of a Brisbane quarantine cleaner infected with the UK variant also tested positive on Monday afternoon.
Anyone who attended the following stores during these times is now considered close contacts by health authorities, and are urged to get tested and quarantine at home immediately for 14 days since the visit, regardless of the test result:
Bunnings Warehouse at Acacia Ridge between 2pm and 2.40pm on Tuesday, January 5
Sunnybank Cellars on Hellawell Road, Sunnybank Hills, between 2.05pm and 2.15pm on Wednesday, January 6
These sites are in addition to three others flagged by contact tracers last week after the cleaner, a woman in her 20s, was confirmed to be infected.
Other passengers on the train she caught to and from the Brisbane CBD for a shift at the Hotel Grand Chancellor on Saturday, January 2, are considered casual contacts and required to only quarantine until they received a negative test result.
The development comes less than an hour after the three-day greater Brisbane lockdown sparked by the cleaner's case lifted, with masks remaining mandatory along with some restrictions on gatherings and businesses.
NSW Deputy Premier John Barilaro lost his aunt and uncle to COVID-19 late last year, which made him "more cautious" about the response to the virus, he has announced.
In an interview with The Daily Telegraph on Monday, Mr Barilaro said his aunt Maria Inzillo and her husband Damiani Nesci, who lived in the Italian city of Genoa, died of the virus in December.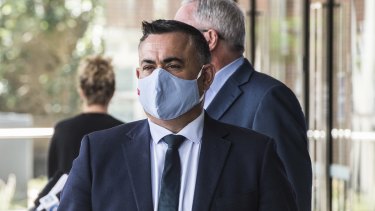 "Once it's in your family, you suddenly realise COVID-19 actually kills, it could happen to any of us," he said.
"Their deaths changed me, I realise[d] we're not out of the woods yet, it's made me more cautious."
Mr Barilaro said he has a large, close family and the deaths "knocked us all".
News of the deaths come as NSW reported three local coronavirus cases in the 24 hours to 8pm on Sunday, all linked to the Berala cluster in western Sydney.
NSW Chief Health Officer Dr Kerry Chant urged GPs to encourage their patients to get tested even if they have "the most minimal of symptoms".
The most recent testing figures – 18,570 and 23,763 per day – are lower than NSW's aim of 25,000 to 30,000.
In his recent role as acting Premier, while Gladys Berejiklian took leave, Mr Barilaro also urged residents to get tested in greater numbers.
As we reported earlier, the Victorian government said a delay in getting public health orders signed off had prevented Victoria's new "traffic light" permit system from going live at 6pm.
The Victorian government said it expected the orders to be signed by 7pm AEDT, and online applications will then be accessible.
But as of 7.23pm it is still not live.
We'll keep monitoring and let you know when the system opens for applications.
While we wait, let us know if you're one of the many hanging out to get a permit.
Fresh exposure alerts have been issued for a variety of venues across Sydney after they were visited by COVID-positive patrons.
Anyone who visited Blacktown Workers Sports Club (Grange Buffet) in Arndell Park on Sunday January 3 for more than an hour between 11.40am and 1.30pm is being urged to get tested immediately and isolate for 14 days regardless of the result.
But those who spent less than hour at the Grange Buffet are considered at lesser risk of contracting coronavirus and are advised to get tested and isolate only until they receive a negative result.
Anyone who attended the following venues at the times listed below is a casual contact who must get tested immediately and self-isolate until a negative result is received. If any symptoms appear, get tested again.
Coles, Warriewood Square (12 Jacksons Rd, Warriewood)
Thursday 31 December 2pm – 2.10pm
Tuesday 5 January 12.45pm – 1pm
Woolworths, Warriewood Square (12 Jacksons Rd, Warriewood)
Monday 4 January 12.15pm – 12.45pm
Wednesday 6 January 12pm – 12.15pm
Aldi, Warriewood Square (12 Jacksons Rd, Warriewood)
Tuesday 5 January 12.10pm – 12.40pm
Friday 8 January 12pm – 12.25pm
Rebel (12 Jacksons Rd, Warriewood)
Wednesday 6 January 12.15pm – 12.30pm
Anyone who attended the following venues at the times listed below should monitor for symptoms and, if they occur, get tested immediately and self-isolate until a negative result is received:
Blacktown Workers Sports Club (Everywhere except Grange Buffet) (170 Reservoir Rd, Arndell Park)
Sunday 3 January 11.40am – 1.30pm
Michel's Patisserie (260 A Liverpool Rd, Ashfield)
Wednesday 6 January 4pm – 5pm
Pool and Spa Warehouse (20 Chard Road, Brookvale)
Friday 8 January 11.05am – 11.15am
Pharmacy Less (12 Jacksons Rd, Warriewood)
Friday 8 January 12.25pm – 12.35pm
Victorian Premier Daniel Andrews this afternoon announced anyone who wanted to enter Victoria from 6pm AEDT tonight would need to apply for a permit on the Service Victoria website or risk a $5000 fine.
However, the border entry form did not go live at 6pm as expected and those who attempted to access it were told to "check back here later today".
The Victorian government said Chief Health Officer Brett Sutton had not yet signed the legal direction to enforce the permit system, hence the delay.
The government expects the orders to be signed by 7pm AEDT, and online applications will then be accessible.
The partner of the Brisbane quarantine hotel cleaner who spent five days in the community with the more infectious United Kingdom COVID-19 variant and led to a three-day city lockdown has also tested positive to the virus, Queensland's Chief Health Officer Jeannette Young has confirmed.
While the man has been in quarantine since January 7 – the same day Queensland authorities alerted the public to the cleaner's movements during the time she was believed to have been infectious – further contact tracing will now be conducted.
But Dr Young stressed there would be no change to the easing of the three-day lockdown, set to lift at 6pm AEST, after earlier stating cases among the 370 already found would not result in a snap back to stay-at-home orders.
"We know this particular variant of COVID-19 is more contagious, so this result is unsurprising," Dr Young said in a statement.
"However, it highlights the importance of why the Greater Brisbane lockdown was so important to ensure any potential spread of the virus is contained."
The man had already returned one negative test result before his infection was confirmed today, with genome sequencing expected to confirm it was also the UK variant. Additional testing of other close contacts of the couple will continue this week.
"We are determining the man's potential infectious period and contact tracing is underway," Dr Young added.
"We usually do not report any new cases until the next reporting period, however I wanted to stress again the importance of anyone, no matter where they are in the state, to come forward for testing if they have any symptoms of COVID-19 whatsoever."
Earlier today it emerged that a child who attended a childcare centre in Armadale in inner-Melbourne a few days ago had tested positive for coronavirus overseas.
Chief Health Officer Brett Sutton played down the risk posed by the case saying he suspected the test result was likely a "false positive".
The Department of Health and Human Services has now released a little more detail on the timeline for the case.
This is the statement just released from the department: "Late on Sunday 10 January, the department was made aware by our health colleagues in Israel that a male child who travelled from Melbourne to Tel Aviv on the evening of 8 January on an Emirates flight, had tested positive on arrival in Tel Aviv.
"The case travelled via Dubai, was tested and diagnosed on arrival in Tel Aviv on the evening of 9 January, Melbourne time. We are working with our colleagues in Israel to confirm the test result.
"The child last attended an Early Learning Centre in Armadale on 7th January. The centre has been contacted and cleaning and contact tracing is underway. The department is working with the Royal Children's Hospital to conduct testing on children who attended the early learning centre."