But Jokowi cannot afford another year of muddling through. Not, at least, without Indonesia paying a high price. More than 24,000 Indonesians have died of COVID-19, with more than 800,000 confirmed cases, according to official data. With some of the world's lowest testing rates, the real numbers are likely to be multiple times higher. Several hundred doctors and health workers have died because of the disease, further straining a health system already overstretched and underfunded.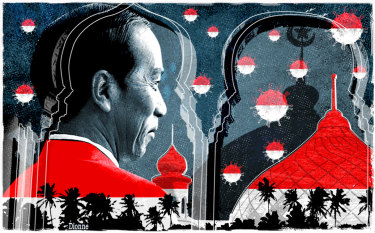 On the economic front, millions lost their jobs last year. The tens of millions who struggle to get by in the informal sector as drivers, labourers and food hawkers saw their incomes contract perilously. Technocrats, led by Finance Minister Sri Mulyani Indrawati, took bold action to stave off the risk of a sharper contraction and a banking collapse. But, on the ground, officials struggled to distribute much-needed assistance to the healthcare system and poor Indonesians, not helped by ministerial malfeasance and incompetence.
Despite the uncontrolled spread of COVID-19, Jokowi has rejected pressure from epidemiologists and doctors to use lockdowns. He has argued – with some justification and some dissimulation – that Indonesians are too ill disciplined to comply and that the economic impact would be too grave, with work-from-home not an option for the many who rely on informal jobs.
But, at the same time, the economy cannot truly recover until the pandemic has been brought under control. Nor is there much chance of Australia, and other neighbours that have worked hard to control the pandemic, opening their borders to Indonesia so long as COVID-19 is still rampant. While public health experts have warned that vaccinations are not a silver bullet, Jokowi is acting as if they are – just like many other leaders, and we citizens, who are desperate for an end to the pandemic.
Still, the President is right to set an aggressive target for vaccinations, as they are one of the best tools available for now. However, his government will need to show a step-change in application to achieve it. Other early movers like Britain are already struggling to meet their targets for vaccination. Indonesia starts from a worse position, with bad infrastructure, an ineffective bureaucracy and endemic corruption, as well as widespread scepticism about vaccinations.
Jokowi signalled his intent with a cabinet reshuffle last month, when he replaced the calamitous former health minister (who claimed COVID-19 could be thwarted by prayer) with a respected former banker, and brought in the popular former mayor of Surabaya to replace the Social Affairs Minister who was arrested on graft allegations.
Loading
Now, Jokowi and his revamped team must deliver on their promises, in this defining year for his presidency, as he prepares to step down in 2024 because of the constitutional two-term limit.
Beyond the vaccination campaign, they need to generate better data about the extent of the disease, develop a better response to manage outbreaks and find more effective ways to help struggling Indonesians and kick the economy back into gear.
It is an incredibly difficult challenge – one that many far richer nations are struggling with. Jokowi's government will need to do all this while managing the perennial problems that afflict Indonesia, from natural disasters and plane crashes to simmering tensions with radical Islamist groups.
As I argued in my recently published political biography, Jokowi rose from obscurity to the top of Indonesian politics thanks to a large dose of luck, as well as his natural affinity for politics. Now he must show that he is able to step up in dark times too.
Ben Bland is the director of the Southeast Asia Program at the Lowy Institute and author of Man of Contradictions: Joko Widodo and the Struggle to Remake Indonesia.
Ben Bland is a research fellow at the Lowy Institute and the author of Generation HK: Seeking Identity in China's Shadow and the forthcoming Man of Contradictions: Joko Widodo and the Struggle to Remake Indonesia.