Loading
The public draft of the Online Safety Bill, released on December 23 for community comment, includes tougher sanctions against online abuse but also extends federal powers over content that incites violence.
While social media companies are under no government obligation to explain how they decide to cancel free expression, Australian Competition and Consumer Commission chairman Rod Sims said political leaders faced a "defining question" over the control of online content.
Mr McCormack, who is leading the government while Prime Minister Scott Morrison takes leave this week, said Twitter had gone too far in removing Mr Trump from its platform.
"I don't believe in that sort of censorship. But, you know, I mean, there's been a lot of people who've said and done a lot of things on Twitter previously that haven't received that sort of condemnation or, indeed, censorship.
"That's a matter for Twitter. They've made that call. They've got a company, they've got a business to run and they've made that decision."
Twitter has suspended Mr Trump's account, which means he cannot post new tweets and his old tweets are no longer on the platform, while Facebook has kept his old material online while blocking him from making new posts.
Facebook chief Mark Zuckerberg said the decision was taken because Mr Trump had decided to "undermine the peaceful and lawful transition" to his elected successor, Joe Biden.
"His decision to use his platform to condone rather than condemn the actions of his supporters at the Capitol building has rightly disturbed people in the US and around the world," Mr Zuckerberg wrote.
Loading
Mr Frydenberg said freedom of speech was fundamental to society.
"Those decisions were taken by commercial companies but personally I felt uncomfortable with what they did," he said.
Mr McCormack and Mr Frydenberg made no criticism of Coalition backbenchers, including George Christensen, who have backed Mr Trump in his claims about voter fraud in the US election.
"George Christensen is accountable to his electorate and can explain his actions," Mr Frydenberg said. "When it comes to the ability of an MP to tweet and to speak, they are democratically elected into the Parliament."
Labor treasury spokesman Jim Chalmers said ministers should reject "dangerous" public comments from Liberal and Nationals MPs who spread misinformation about the US election.
"These are dangerous characters expressing dangerous views and the Prime Minister needs to shut them up," Mr Chalmers said.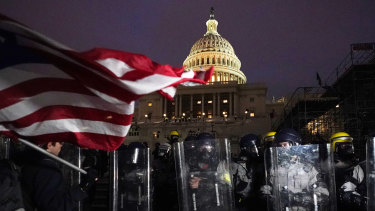 Amnesty International criticised Mr McCormack for drawing a parallel between the Black Lives Matter protests and the violence at the Capitol last Thursday, which Mr Biden described as an insurrection.
Speaking on ABC Radio National on Monday morning, Mr McCormack said: "It is unfortunate that we have seen the events at the Capitol Hill that we've seen in recent days, similar to those race riots that we saw around the country last year."
Amnesty International Indigenous rights spokesman Nolan Hunter said the acting Prime Minister should withdraw the offensive comparison.
"To call the Black Lives Matters movement 'race riots' proves that the acting Prime Minister ignored the incredibly important message that it shared," Mr Hunter said.
"Australians are sick of Indigenous lives not mattering like white lives, Australians are sick of Indigenous people dying younger than non-Indigenous Australians, Australians are sick of Indigenous people being locked up."
Mr Chalmers said it was "very disappointing" to hear Mr McCormack try to draw a similarity between the Black Lives Matter protests and the insurrection in Washington, DC.
David Crowe is chief political correspondent for The Sydney Morning Herald and The Age.