Thanks for tuning in today folks. We'll be back in the morning to do it all again.
Be sure to check out our first Short Squeeze podcast for the year.
This week Alex Druce is joined by IG Markets Analyst Kyle Rodda to discuss the prospect of more stimulus for the US economy, what is driving the ASX to near 12-month highs, US earnings, and the latest surge in Bitcoin.
Opinion
There is one fundamental question investors need to ask themselves about Elon Musk's electric vehicle maker Tesla. Is it riskier to buy shares, or is it or riskier not to own them?
Investors who called it wrong this time last year paid a hefty price in underperformance. Tesla has risen eight-fold in that period. But an attempt to play catch up may now be the equivalent of taking the last puff of the investment cigar.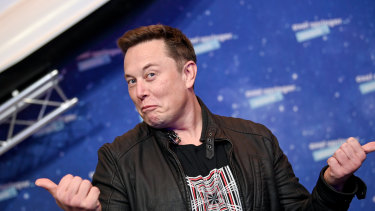 It's kind of ironic that the risk-managed large index fund managers that dominate global equity markets, have piled into Tesla shares over recent months because of its inclusion in the US S&P 500 Index and in doing so have actually created a riskier Tesla play.
Tesla's inclusion in the index and the mandatory buy-in by index players is the largest factor that pushed the electric car company's share price into the stratosphere in 2020.
The Australian sharemarket faded away after lunch to finish a consecutive session in the red, with the mining giants extending losses and tech stocks wilting.
Investors initially defied a weak Wall Street lead and softening commodity prices to help the local benchmark rise 0.5 per cent, though momentum reversed as US futures lost ground in the afternoon.
The ASX 200 eventually shed 0.3 per cent to close at a session low of 6679.1, with the major banks preventing a heavier decline.
It was a second straight loss for the local bourse after it had set a near 11-month high on Friday.
Chief global market strategist at Axi, Stephen Innes, said equities appeared to have entered a period of consolidation following a frantic start to the year.
"But for the reason why it seems easier to paint a speculative cause and effect to fit the narrative," Mr Innes said.
"Be it the collective US political insanity during Trump's final days to soaring US bond yields and the uncertainty if the US Federal Reserve is going to push back".
Wall Street fell from record highs amid an absence of economic data, and after an unsuccessful initial effort by the Democrats to remove President Trump from office.
Tech stocks led losses, while Bitcoin pulled back after its recent surge.
Milford Asset Management portfolio manager Alex Wright said investors were perhaps waiting to see the detail in Joe Biden's stimulus plan later this week.
"(It) is likely to bolster earnings in cyclical parts of the market," Mr Wright said.
"The question is, how much of this has already been priced in."
The mining titans, which underpinned the local market's stellar start to 2021, again sagged on Tuesday, dropping for a third straight session.
BHP lost 1.1 per cent to $46, Rio Tinto fell 0.8 per cent to $121.41, and Fortescue Metals shed 0.3 per cent to $25.13.
Biotech CSL fell by 1 per cent to $273.07 while Macquarie Group was another heavy weight, down 0.9 per cent to $138.79. Wesfarmers and Woolworths were flat.
The major banks limited losses for the wider index.
Commonwealth Bank nudged a more than 10-month high and finished 0.9 per cent ahead at $85.88, while ANZ hit its highest since March last year on its way to gaining 0.8 per cent to $24.05.
Westpac rose 1 per cent to $20.49 and NAB climbed 1.1 per cent to $23.46.
Tech stocks fell with Afterpay down 1.9 per cent at $111.85 and Xero 2.3 per cent down at $132.76.
The Australian sharemarket gave up an early lead on Tuesday to slide 18.1 points, or 0.3 per cent, and finish at 6679.1. The major banks rose but the miners, CSL, Macquarie Group, Woolworths and tech stocks fell.
The second straight loss for the ASX 200 comes after Wall Street retreated from record highs overnight, and commodity prices slipped. US futures were subdued at 4pm AEDT.
Here were the biggest movers on Tuesday:
The Australian sharemarket gave up its early gains to fall flat after lunch, with the major banks among the few stocks preventing wider losses.
The ASX 200 was down 0.1 per cent near a session low of 6689.6 by 3.30pm AEDT.
The miners, CSL, Macquarie Group, Transurban, tech, and energy stocks were weighing on the market.
Commonwealth Bank hit near 11-month highs of $86.26 and was last 0.8 per cent ahead at $85.85.
ANZ was at its highest since March last year, reaching $24.28. the lender was last 0.7 per cent in front at $24.01.
Westpac added 0.9 per cent to $20.47 and NAB was 1.1 per cent higher at $23.45.
US futures were flat.
Mining giant Rio Tinto is facing the threat of the Mongolian government halting its $8.7 billion expansion of the Oyu Tolgoi copper-gold mine amid concerns about cost blowouts eroding economic benefits for the developing nation.
In a fresh setback for Rio's problem-plagued project, the Mongolian government this week warned the Anglo-Australian miner it was dissatisfied with the progress of the Oyu Tolgoi underground mine expansion and was now considering revoking its 2015 mine development and financing plan unless fiscal returns were improved.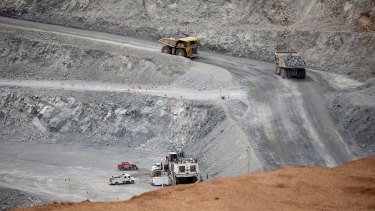 The New York and Toronto-listed shares of Rio's majority-owned Turquoise Hill Resources, which provides the miner's exposure to Oyu Tolgoi, dropped by nearly 20 per cent following the news. Rio shares were down 0.5 per cent to $121.83 on the ASX in afternoon trade.
"The government of Mongolia has indicated that if the Oyu Tolgoi project is not economically beneficial to the country, it would be necessary to review and evaluate whether it can proceed." Turquoise Hill said.
Shares in church-focused donation platform Pushpay were up 2 per cent on Tuesday afternoon after the firm upgraded its earnings outlook.
The ASX-listed software company – which facilitates electronic donations between users and their church – looks set to snap a five-session losing streak after it told investors full-year earnings be between $US56 million and $US60 million.
The NZ-based firm had previously guided for earnings of between $US54 million and $US58 million. The company has upgraded its outlook four times so far this financial year.
Pushpay also announced its chief customer officer Molly Matthews, who has been with Pushpay for four years, had been appointed chief executive. She is based in Seattle and will replace Bruce Gordon, who has been in the role on an interim basis since June 2019.
Shares in the firm were last up 2.3 per cent at $1.53. The company started the year with a 1.1 per cent rise to $1.80, but has since fallen away.
Pushpay's share price is still down 32 per cent on near-record highs of $2.25 in October.
Mining titans BHP, Rio Tinto, and Fortescue Metals have continued their slide from records highs and are keeping the ASX 200 flat on Tuesday.
The trio led the market's bright start to 2021, each surging to all-time peaks on Thursday as the ASX hit a fresh 10-month high.
Now they look set for a third straight session of losses.
BHP was last 0.9 per cent lower at $46.07, Rio Tinto fell 0.7 per cent to $121.54, and Fortescue Metals 0.4 per cent down at $25.12.
BHP is down 2.3 per cent in three sessions, Rio 4.3 per cent, and Fortescue 5.1 per cent.
Iron ore slipped by 0.5 per cent overnight but is still at stratospheric prices of $US172.13 a tonne.
Gold also edged lower, with Newcrest Mining dropping 0.6 per cent to $26.16, Northern Star 0.7 per cent down at $12.69, Evolution 1.2 per cent lower at $4.67, and Saracen 0.7 per cent down at $4.78.
The ASX 200 was last 0.5 points down and nearly completely flat at 6697.7.
The major lenders have kicked on after a modest early start and are keeping the ASX 200 in positive territory on Tuesday.
The local benchmark was up 0.2 per cent near 1pm, with the banks helping to offset a decline by the iron ore giants, biotech CSL, Wesfarmers, and Woolworths.
Commonwealth Bank was up 1.1 per cent at $86.05 and earlier touched a near 11-month peak of $86.26.
NAB added 1.8 per cent to $23.63, Westpac rose 1.5 per cent to $20.58, and ANZ was 1.4 per cent ahead at $24.19.
ANZ earlier rose to $24.28, its best since March. last year.
Macquarie Group was 0.1 per cent ahead at $140.04.
US futures slipped at lunchtime but remain narrowly in front.
Opinion
The outcome of the run-off Senate election in Georgia last week has changed the dynamics of not just US politics but also financial markets.
That election, which improbably gave the Democrats the slimmest of majorities in the Senate and therefore control of both chambers of Congress, has transformed investor perceptions of what the Biden administration might be able to achieve in its initial period in government.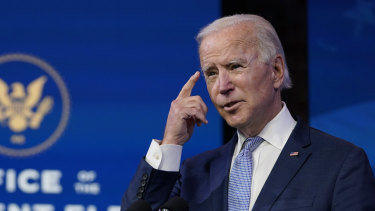 Where previously it appeared unlikely Biden would be able to overcome Republican opposition in the Senate to add to the $US900 billion of pandemic-related stimulus Congress passed late last year, now markets are factoring in another $US1 trillion of aid and Biden is himself talking about a "multi-trillion" dollar package.
Vice President–elect Kamala Harris' casting vote in the Senate also opens the door to the Democrat agenda on infrastructure, clean energy and more spending on health and social welfare programs. In the next two years, ahead of the mid-terms in 2022, the US could embark on a near-unprecedented spending spree.