"I don't want to use the expression that we're comparing apples to oranges," Plati said, but the event is planned over a year with contingencies, and they anticipate the possibility of extreme violence.
Biden himself hasn't expressed concern about his own security at the inauguration.
"I'm not afraid of taking the oath outside," he told reporters Monday. "It is critically important that there'll be a real serious focus on holding those folks who engaged in sedition and threatening the lives, defacing public property, caused great damage — that they be held accountable."
Trump has approved an emergency declaration for Washington that lasts through January 24, the White House said.
The declaration states that "an emergency exists" in DC and orders federal assistance to supplement the DC's response efforts.
It authorises Homeland Security and the Federal Emergency Management agency to coordinate all disaster relief efforts.
There are several signs that the violence is not over.
The FBI has warned of plans for armed protests at all 50 state capitals and in Washington DC in the days leading up to the inauguration.
This comes as Acting Homeland Security Secretary Chad Wolf gave notice of his resignation, the latest senior Trump administration official to resign following last week's deadly mob attack on the Capitol.
Wolf announced his resignation was effective as of midnight, Washington time, a decision he said was prompted by several court rulings challenging the validity of his appointment to lead the department.
Wolf did not specifically cite the storming of the Capitol, attributing his choice to "recent events".
"Unfortunately, this action is warranted by recent events, including the ongoing and meritless court rulings regarding the validity of my authority as Acting Secretary," Wolf said in a statement. "These events and concerns increasingly serve to divert attention and resources away from the important work of the department in this critical time of a transition of power."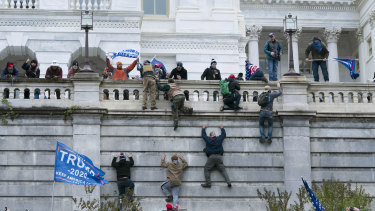 An internal FBI bulletin warned that, as of Sunday, the nationwide protests may start later this week and extend through Biden's January 20 inauguration, according to two law enforcement officials who read details of the memo to The Associated Press. Investigators believe some of the people are members of some extremist groups, the officials said. The bulletin was first reported by the American ABC.
"Armed protests are being planned at all 50 state capitols from 16 January through at least 20 January, and at the US Capitol from 17 January through 20 January," the bulletin said, according to one official. The officials were not authorised to speak publicly and spoke to the AP on condition of anonymity.
The talk of armed marches next week isn't limited to "radicalized" Trump supporters. State capital events on January 17 appear to be promoted by supporters of the anti-government, pro-gun "boogaloo" movement. Boogaloo followers want a second civil war or the collapse of society, and they don't adhere to a coherent political philosophy.
Posts on social media sites have also promoted a "Million Militia March" on the day of Biden's inauguration.
Army General Daniel Hokanson, chief of the National Guard Bureau, told reporters on Monday, US time, that the Guard is also looking at any issues across the country.
"We're keeping a look across the entire country to make sure that we're monitoring, and that our Guards in every state are in close coordination with their local law enforcement agencies to provide any support requested."
He said up to 15,000 National Guard members could be deployed in Washington during the presidential inauguration.
The National Guard would bring their weapons to Washington and carry them based on discussions with the FBI, police and other agencies.
"Obviously, we're very concerned that we want our individuals to have the right to self-defence," the general said. "And so, that will be an ongoing conversation, and if the senior leadership determines that that's the right posture to be in, then that is something that we will do."
Loading
There are at least eight investigations into 17 Capitol Police officers related to the pro-Trump mob insurrection, a House aide familiar with the investigations told Washington news site CQ Roll Call.
Three Capitol Police officers are currently suspended with pay, the aide said, adding that it is unclear whether those suspensions are related to the eight investigations.
There are also investigations into social media posts and social media activity of Capitol Police officers.
AP, Washington Post, Reuters, McClatchy
US power and politics
Understand the election result and its aftermath with expert analysis from US correspondent Matthew Knott. Sign up here.