Loading
"The pool is being transformed from a lap-swimming pool to a pool for the whole community," she said.
Councillor MaryAnn Beregi was concerned some councillors had not seen the contract or a probity plan for the project. She found out a builder had been appointed via an announcement on the council's website this month.
"The council's budget for the project has gone from $28 million to $58 million to $64 million, and we don't even know what $64 million will get us," Cr Beregi said.
"I've been concerned by what I've read about [Icon's] financial position and the status of various legal claims, and whether they have sufficient experience to undertake what is an incredibly complex build on a heritage site."
Icon NSW director Edward Whiting said the company was "very well-placed" for the project and it recognised "the importance of the heritage aspects associated with one of the nation's most historic swimming pools".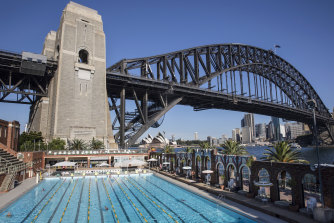 "The brickwork is the main [challenge] and replication of heritage signage. We've got a good subcontractor base to be able to do that."
He said the construction company had completed a number of redevelopment projects, including The Old Clare Hotel at Chippendale and Auburn Ruth Everuss Aquatic Centre, which had "various levels of heritage underlay".
The Opal Tower at Sydney Olympic Park became a lightning rod for debate over the standards of residential construction across the city after a crack developed in a load-bearing concrete panel on Christmas Eve in 2018.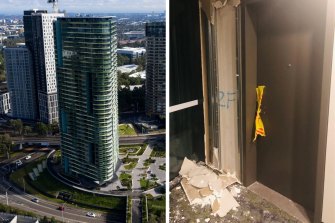 Loading
The incident unleashed a wave of litigation in NSW courts. Icon has alleged in court documents that "shortcomings" by the building's structural design engineer caused the damage to the apartment building.
A Federal Court decision last year said Icon had paid out in excess of $31 million as a result of the damage, including property rectification costs, alternative accommodation costs for residents and legal fees since February 28.
Mr Whiting declined to comment on the Opal Tower. He said Icon had numerous projects in the pipeline and there were "no financial concerns with our business", which is backed by construction giant Kajima Corporation.
"We have a good record for [delivering projects] on time and on budget, we're sure to carry that on," Mr Whiting said.
Cr Gibson said she had "full confidence in Icon, otherwise they wouldn't have been awarded the tender".
"I'm very confident that we'll be swimming in it before Christmas 2022."
The 50-metre pool will remain open until the end of February for booked swims.
"Council will then spend two to three weeks decommissioning the pool, including removing equipment and memorabilia, before handing the site to Icon to start construction," the council said.
Megan Gorrey is the Urban Affairs reporter at The Sydney Morning Herald.