Premier Annastacia Palaszczuk has asked the national cabinet to re-evaluate hotel quarantine rules in order to stamp out the mutant strain of COVID-19 before it spreads through the community.
Her office told Brisbane Times the state government had no plans to halt international arrivals completely, with Queensland still accepting up to 500 people each week.
Chief Health Officer Jeanette Young has no idea how the mutant strain escaped the confines of the quarantined room, and health authorities are investigating every possible scenario, from the effects of flushing a toilet to the circulation of airconditioning vents.
"This has happened very quickly and we're struggling to find out how it's got out of that room," Dr Young said.
"I don't understand how it happened on floor seven. I don't know how it has transmitted."
The original case was a man who returned from the United Kingdom and tested positive in quarantine on December 29.
Since then, he has infected his partner, a hotel cleaner and her partner, as well as a father and daughter who were quarantined on the same floor of the Hotel Grand Chancellor.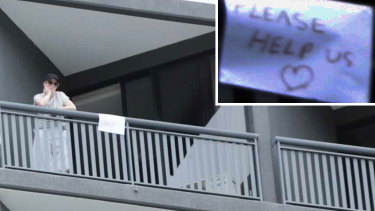 Of the infected six, only the hotel cleaner and her partner mingled in the community while infectious.
There was no evidence the pair infected anyone else, after more than 100,000 people were swabbed in the past six days, however some people do not show symptoms or return a positive result for up to 14 days after they are infected.
January 22 will mark two weeks, or one incubation period, since the pair last had interactions outside isolation.
Greater Brisbane will almost certainly be thrown back into hard lockdown if another case of the UK strain is detected outside hotel quarantine between now and then.
How the six cases became infected
December 30: A man who came to Brisbane from the United Kingdom with the mutant strain tests positive. He then infects his partner, who was staying in the same room on level seven of the Hotel Grand Chancellor in Brisbane's CBD.
January 6: A hotel cleaner tests positive for the virus. The 22-year-old had returned a negative test on December 29 but authorities believe she was unknowingly infectious in the community for five days.
January 8-11: Brisbane goes into lockdown. No new cases are detected in the community.
January 11: The cleaner's partner tests positive. He was infectious in the community for two days before he went into isolation on January 7.
January 12: A father and daughter who returned from Lebanon test positive to COVID-19 on day 10 of their hotel quarantine stay. They were housed on level seven of the Hotel Grand Chancellor.
January 13: Heath authorities evacuate the Hotel Grand Chancellor.
Returned overseas travellers due to be released from quarantine at the Grand Chancellor Hotel on Wednesday morning were ferried by ambulance to new hotels to start another two weeks' quarantine.
Antonia McCahon arrived in Brisbane from France on December 30 and had been due to be released from quarantine on Wednesday morning.
Instead she says she was simply told to keep her bag packed and stand by.
"The police, the health staff and the hotel workers have actually been fantastic while I've been here, I can't fault anything that's happened – up until today," Ms McCahon said.
"Just the lack of information is so frustrating. Honestly, I'm watching the news to find out what might happen to me."
Many evacuees waited for transport on their balconies at the Grand Chancellor, one of the few quarantine hotels in the city with outdoor access, with one woman holding a sign reading: "Please help us."
– with Matt Dennien and Stuart Layt
Lydia Lynch is Queensland political reporter for the Brisbane Times