The company is for the most part an apparel retailer – it isn't a growth stock- rather it operates in a mature industry and one which is highly competitive.
These are the results more usually associated with the technology sector – not a retailer selling frocks, pyjamas and kids stationery.
Its multi-purpose centralised distribution centre was match fit years before the pandemic-led stampede into online sales.
To be sure, Premier Retail has received plenty of tail winds from COVID despite the fact that stores across its local and international network were shuttered at various times. In the first instance Jobkeeper payments were a major contributor to the bottom line (although that contribution fell in the half).
Critics have called on Premier to repay Jobkeeper payments but there is no suggestion that this is likely.
Additionally, deals with suppliers and rent reductions from landlords have all played positively into the company's cash flow.
That has been the case for numerous retailers in 2020 who have surprised investors with stellar results.
Many retailers have experienced a surge in demand as consumers embarked on a spending spree, with the money they received in government stimulus payments and savings amassed due to their inability to travel.
Customers flocked online to shop – heeding the health advice from governments to stay away from shopping malls.
Where Premier diverges from others in retail is its ability to adapt to the online environment to the extent that its digital sales attract a significantly higher margin than store sales.
Its multi-purpose centralised distribution centre that services stores and online customers – said to be the brainchild of chief executive Mark McInnes – was match fit years before the pandemic-led stampede into online sales.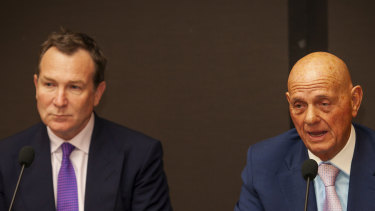 Few other retailers can make that claim and many have been scrambling over the past nine months to streamline logistics and distribution infrastructure.
Making more money from online sales explains how the company's 18 per cent rise in like for like sales translated into earnings growth of between 75 per cent and 85 per cent.
And rather than offshore sales being central to growth, this bounce appears to be powered from Australia where like for like sales grew 26 per cent.
In previous years when the international expansion of the Smiggle brand was the highlight of the retail conglomerate, there was scant mention of its contribution to the forecast result.
The stand out brand performers were Peter Alexander, Just Jeans and Jay Jays.
Loading
While across the group growth in online sales hit 60 per cent against the same period last year – and now contribute more than 20 per cent of total sales.
And given online sales produce a higher margin, there would be incentive for Premier to increase this proportion of total sales further.
It also adds impetus to Premier's push with landlords to lower rental costs – a move that also pre-dates the pandemic.
Despite the very strong result, many retailers including Premier still face uncertainty in 2021 as stimulus measures roll off and they face the prospect that sales in 2020 were brought forward and may impact sales this calendar year.
When the half year results are officially released in March, Premier will doubtless have more visibility on what is in store for 2021.
Elizabeth Knight comments on companies, markets and the economy.