And with that, we'll close the blog off for the evening.
Thanks for tuning in to Markets Live this week, and for joining the discussion in the comments.
Alex Druce will be back on Monday with Lucy Battersby.
See you then.
Australian shares were almost unchanged on Friday as investors closed the book on a lacklustre week that was dominated by US politics more than local events.
Mining giant BHP and payment darling Afterpay set new price records on Friday – while three of the big four banks climbed – but the ASX 200 still faded late to finish 0.1 points higher at 6715.4.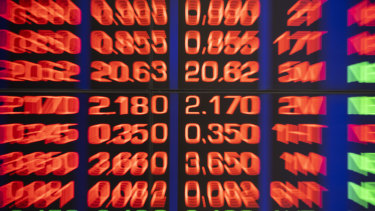 While technically a third straight gain, the session capped a softer week for the benchmark index.
Stocks fell a collective 0.6 per cent in a narrow retreat from last week's near 11-month high as investors contested with heightened political noise in the US.
Investors were ultimately unphased by President Donald Trump's second impeachment, while they appeared to be biding their time ahead of the Democrats' long-awaited COVID stimulus deal.
There was, however, little movement on Friday after President-elect Joe Biden unveiled a $US1.3 trillion coronavirus plan that includes a $20 billion in a national vaccination program, $US1,400 stimulus payments, and boosting unemployment insurance supplements to $US400 per week.
Bell Direct analyst Jessica Amir said the package was perhaps slightly lower than investors were hoping for but she doubted the heightened sentiment for equities would suffer.
"We've lost a bit of momentum this week but if you step back, we're still tracking up for the year," she said.
"The market is still near 11-month highs, sentiment is still high, we're expecting a recovery, and we've got vaccines coming."
The ASX 200 gained as much as 0.6 per cent on Friday but faded after lunch with a declining US futures market.
The iron ore miners were solid after commodity prices edged higher, with BHP finishing 1.7 per cent ahead at $46.82 and touching a fresh intraday peak of $47.545.
Rio Tinto gained 0.7 per cent to $120.52 and Fortescue Metals was 1.7 per cent ahead at $25.18.
Commonwealth Bank fell 1.1 per cent to $85.38, but NAB and Westpac each added 1.5 per cent. ANZ finished 0.2 per cent higher.
Afterpay was a standout. The buy now, pay later darling gained 10 per cent to close at $133.15, continuing a strong run after a price upgrade by Morgan Stanley and a strong debut by its main US competitor, Affirm.
Pro Medicus also backed up Thursday's gain with a new record intraday high of $39.62.
The firm finished 4.5 per cent ahead at $38.19.
The Australian sharemarket was effectively flat on Friday – gaining just 0.1 points – to finish at 6715.4 and record a narrow weekly loss.
The iron ore miners were strong, while NAB, Westpac, and ANZ each rose. Telstra gained ground and Afterpay set a new record close of $133.15 after rising 10 per cent
The index slipped 0.6 per cent for the week.
Shareholders in gold miner Saracen have voted overwhelmingly in support of the company's $16 billion merger with Northern Star.
Saracen this afternoon said 99.95 per cent of shares and 98.18 per cent of Saracen shareholders voting at the scheme meeting were cast in favour of the deal, which is expected to create a top 10 global gold producer.
Saracen will now seek the Supreme Court of Western Australia's approval of the Scheme at a hearing scheduled for Tuesday, February 2.
"Our shareholders have been virtually unanimous in their support for our merger with Northern Star," Saracen managing director Raleigh Finlayson said.
"I would like to thank them for their huge vote of confidence in our plan to create a world-scale gold miner which will benefit from extensive synergies, economies of scale, outstanding free cash flow and one of the strongest growth profiles in the global gold mining industry.
Implementation of the Scheme is expected to occur on Friday February 12.
The Australian sharemarket is narrowly in front with 20 minutes left of Friday, with the market set to record a small decline for the week.
The ASX 200 was up 0.2 per cent to 6730.4 as the big miners rose and Afterpay continued its record surge – rising more than 11 per cent to $135.54.
NAB, Westpac, and ANZ were higher, though the Commonwealth Bank was weighing.
CSL and ResMed were lower.
The market is down 0.4 per cent for the week, cooling off during what has proved a noisy week for US politics.
US futures were subdued and pointing to early losses on Wall Street tonight.
African-focused gold miner Resolute is among the worst performers on the ASX 200 on Friday after the firm announced it had missed its downgraded production guidance.
The gold miners, in general, were down and keeping the materials sector in check.
Resolute – which has mines in Mali, Ghana, and Senegal – said it poured 89,888 ounces of gold in the December quarter, bringing total gold production in CY20 to 395,136oz, below its downwardly revised guidance of 400,000oz.
Shares in the $840 million firm were last down 8.5 per cent at 70 cents, and it earlier hit a near 10-month low of 69 cents.
Resolute was at a 15-month high of $1.50 in July.
All-in sustaining costs for 2020 of $US1,074 an ounce was maintained within the revised cost guidance range of $US980/oz to $US1,080/oz.
Resolute said the key impacts on production in the December quarter were at the Syama Gold Mine in Mali where the Cashew Satellite Oxide open-pit operations experienced mining equipment availability and process plant material handling issues.
Spot gold rose 0.2 per cent to $US1847 an ounce overnight, but fell 0.5 per cent to $2373/oz in the local currency.
Newcrest Mining was down 0.1 per cent, Northern Star 2.1 per cent, Evolution 1.3 per cent, Saracen 1.8 per cent.
Vaccine industry experts have urged Australians not to panic about the limited supply of Pfizer's coronavirus vaccine into Australia, arguing the government was always going to face stiff competition for doses.
As concerns were raised over whether Australia was relying too heavily on AstraZeneca's coronavirus vaccine, chief medical officer Paul Kelly said on Wednesday that mRNA vaccine maker Pfizer had told the government it could only allocate 10 million doses to Australia in the first half of 2021.
Earlier this week, Pfizer's German development partner BioNTech said it had increased its vaccine production targets and could make 2 billion doses for the globe in 2021, up from a projected 1.3 billion.
A number of global deals have been signed for these doses to be delivered in 2021 and beyond. The United States has the option to buy up to 600 million doses, the European Commission has now negotiated 600 million doses, Japan has ordered 120 million doses, and the UK 40 million. The number of doses set to run through the COVAX facility for use by developing nations is not yet known.
There are only a handful of tech companies on the rise today.
Crucially, one of them is Afterpay – with record gains for buy now, pay later rocket enough to drag the entire sector higher.
The $34 billion firm soared nearly 7 per cent to a new intraday record of $130.20 on Friday on the back of yesterday's price target upgrade by Morgan Stanley.
BNPL investors are also likely to have been encouraged by a strong debut from Afterpay's main US rival, Affirm.
The wider ASX tech sector was up 1.7 per cent, though none of the remaining WAAAX members were in front.
Afterpay had a breakout 2020 as tech stocks and online retail thrived during the coronavirus pandemic.
The company quadrupled in value and was among the best performers on the entire index.
Mortgage lending jumped another 5.6 per cent in November to reach a new monthly high of $24 billion, after the official interest rate was sliced to a new record low.
The total value of new loan commitments was 23.7 per cent higher than it was in November 2019, according to the latest Australian Bureau of Statistics (ABS) figures released today.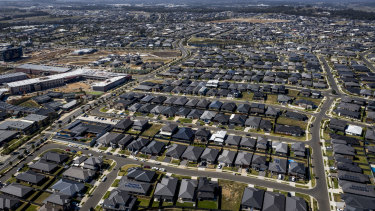 Loans to new owner-occupiers rose 5.5 per cent to $18.3 billion for the month, up 31.4 per cent on November 2019.
The number of owner-occupier first home buyer loan commitments rose 3.1 per cent to reach 13,905 (seasonally adjusted), a 42.5 per cent rise since the start of the year.
This is the highest level seen since October 2009 when similar rapid growth was spurred by the temporary tripling of the first homeowner grant, which was part of the Commonwealth Government's economic stimulus package in response to the global financial crisis.
The Reserve Bank in November unveiled a massive package of measures from the Reserve Bank to support the economy out of the coronavirus recession, including a record-low cash rate and a $100 billion government bond-buying program.
The RBA cut the official cash rate to 0.1 per cent from 0.25 per cent following its traditional Melbourne Cup Day meeting and governor Philip Lowe said rates would stay low for at least the next three years, with unemployment now the major focus.
The ABS said loan commitments in November for existing dwellings rose 5.9 per cent and were the largest contributor to the rise in November's owner-occupier housing loan commitments.
"Other federal and state government incentives and ongoing low interest rates also contributed to the continuing growth in new housing loan commitments," ABS head of Finance and Wealth, Amanda Seneviratne, said.
The value of construction loan commitments grew 5.6 per cent in November, rising 75 per cent since July.
This follows the implementation in June of the Government's HomeBuilder grant in response to COVID-19.
The value of owner-occupier home loan commitments rose across the largest states and territories but showed mixed results in the smaller ones.
Victorian owner-occupier home loan commitments rose sharply, up 19.6 per cent in seasonally adjusted terms in November, reflecting a surge in housing market activity as COVID-19 restrictions were eased.
Online supporters of President Donald Trump are scattering to smaller social media platforms, fleeing what they say is unfair treatment by Facebook, Twitter and other big tech firms looking to squelch misinformation and threats of violence.
The efforts by those mainstream platforms, prompted by the deadly rampage at the US Capitol on January 6, will likely succeed, according to social media and misinformation experts. But the crackdown could send some of Trump's fiercest supporters retreating to dark and secret spaces on the internet where conspiracy theories and violent rhetoric run rampant.
"We're going to see less opportunity to radicalise new people" on mainstream platforms, Kate Starbird, a leading misinformation expert at the University of Washington said Wednesday. "But for those who are already radicalised, or already down the rabbit hole with conspiracy theories, this might not make a difference if the places they go become echo chambers."
For years, mainstream tech companies had been the target of conservative ire, with complaints that Facebook and Twitter enforce their policies with a political bias. The platforms also have been criticised for allowing harmful conspiracy theories and hate speech to thrive on their sites.