Homicide police were investigating the incident and senior police on Thursday evening said it was too soon to speculate about what had occurred inside the Burgess Street home.
When asked by reporters if Mr Perinovic was a suspect, they declined to describe him as such. They would not rule out the possibility that murder-suicide was being investigated as a possible cause of the deaths.
"He is a person of interest and assisting police with their inquiries," Victoria Police acting Deputy Commissioner Robert Hill said. "But we should not draw any conclusions at this point in time. If I was to do so, it would be grossly unfair."
Mr Perinovic was still assisting police with their inquiries late on Thursday night.
Mr Hill would not comment on the nature of the injuries to the deceased.
Neighbours said Ms Perinovic (nee Blazevic), who worked as a physiotherapist in nearby Glenroy, had grown up in Tullamarine, and had close family living nearby.
They said she would often take her daughters, Anna and Claire, and their little brother, Matthew, to the park near home, where the children would play.
Tara Jenkins, who lives around the corner in Fisher Court, said she would often see the mother take her children to the park, where they would play with her six-year-old son.
"I'm absolutely gutted," Ms Jenkins said. "It's devastating.
Loading
"Those kids were so young, just beautiful little kids.
"[She] was … a very loving mother. We would often say hello to each other as our kids played. She was always really cheerful and kind … just a lovely woman."
Friend and neighbour Marie Groves said she had known the family for more than three years and with two daughters going to school with Katie's three children.
"I'm still trying to process what has happened," she said. "Katie was a very loving and doting mother. The situation is incomprehensible to me.
"We always caught up for play dates… she was over here or we went over to their place. Our daughters did dances classes together. Katie did everything for those children. She was very protective of them and always wanted what was best for them."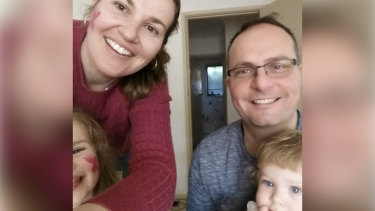 Neighbour John Constantino said he had spoken to Ms Perinovic the night before she died and the conversation had been entirely normal.
"I was watering the garden about 7.30pm and she walked past and she seemed happy and everything," he said.
"She asked me what I was going to do tomorrow, I said, 'I might mow the lawn' and she said 'yeah, it's not going to be a hot day'."
He said Ms Perinovic was "lovely", and her children used to pat his dogs when he would walk them past their house.
Northwest Metro Acting Assistant Commissioner Mark Galliott said there were many questions yet to be answered.
"Police will be there in the community, processing the scene throughout the night, so we get these answers," he said.
Dozens of police officers and several ambulances attended Burgess Street after the alarm was raised early on Thursday afternoon.
Just before 4pm a woman was led past the police tape and into a property by officers. The woman had pulled up to the street minutes earlier, before talking with police. She became distressed and was comforted by officers before escorted into the street by detectives.
A distressed next-door neighbour, who did not want to be named, said that he had gone outside mid-afternoon to see what was happening, and police told him to stay inside.
"It's very shocking, believe me," he told The Age.
He said the people who lived in the home were "nice and friendly and polite".
"[They are] very quiet," he said.
Burgess Street remained cordoned off by police late on Thursday night, with investigators expected to remain at the home through the night.
---
Simone is a crime reporter for The Age. Most recently she covered breaking news for The Age, and before that for The Australian in Melbourne.
Melissa Cunningham is The Age's health reporter.
Rachael Dexter is a breaking news reporter at The Age.