Amazingly, Giddey composed himself and had only a cut lip. Hopefully, no further damage emerges when the adrenaline wears off.
"I copped a knock but I was OK, just a bit dozy after it," said Giddey, sporting a fat lip.
"It is a confidence booster playing like I did tonight but I try not to harp on one game too much because Wednesday night is a new game and anything can happen."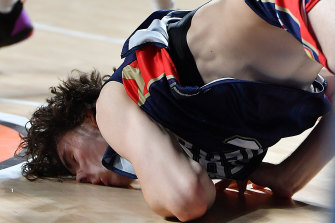 Giddey continued to play, creating baskets for his teammates and coming up with some priceless free-throws to keep his side in the game despite Australian Boomers star Mitch Creek (30 points, eight rebounds, six assists) doing all he could to take his side to the win.
One overtime couldn't separate the teams as NBA import Donald Sloan took the last shot for the Sixers but in the second overtime Giddey wouldn't be denied, nor would his teammates as Isaac Humphries and Brendan Teys came up with key baskets.
Giddey put the finishing touches on the win posting up and executing a world-class spin move to score and draw the foul.
The Phoenix know they should have won the game as their shooting and execution failed them all too often but they showed the makings of a good team with the way they fought back despite the adversity.
The Phoenix looked gone when they trailed 85-77 with four minutes to go in the final term but the return of Wetzell gave them four quick points, then Creek found his touch as did Keifer Sykes (18 points, 11 assists), with the pair bringing the Phoenix level in the final seconds.
Phoenix coach Simon Mitchell rued his side's outside shooting (eight of 30 three-point shooting and 22 of 36 free throw shooting), while he also said his team faced some very tough plays from the 18-year-old Giddey.
"Josh is a good player and did some wonderful things tonight," Mitchell said with a wry smile.
"I look forward to watching his career when he gets the hell out of the NBL."
Roy Ward is a Sports writer for The Age.