Victoria's Wildlife Act dates from 1975, and has never been reformed. When it was introduced in 1975 it was based on the Game Act 1958.
Concern over the act comes in the context of an accelerating extinction crisis facing native fauna. Australia has the dubious distinction of the highest rate of vertebrate mammal extinction in the world.
Since1970, global wildlife populations have collapsed by about two-thirds.
Under the act, the government is able to issue "authorities to control wildlife", which authorise destruction or harm to animals.
In 2019, 3442 of these permits were issued that authorised the destruction or harm of 185,286 animals including 966 emus, 3655 wombats, 3152 ravens, 6919 little corellas and 4570 sulphur-crested cockatoos, the report says.
These licences are often issued to landowners and farmers, where wildlife may be competing with food production, or for hunting and game purposes.
Bruce Lindsay, a senior lawyer at Environment Justice Australia, said the main function of the Wildlife Act now was to manage and license the killing and "take" of wildlife.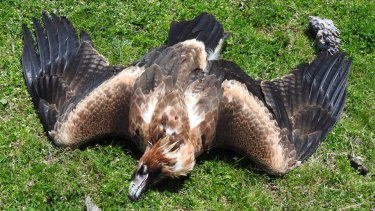 "There is some data on how many are granted, but what's far more opaque is whether the licences are enforced, and if they are administered correctly," Mr Lindsay said.
Even threatened species are killed. In 2019, permits were issued to control 6604 grey-headed flying foxes, a species listed as threatened under Victorian and national laws.
Last year state Environment Minister Lily D'Ambrosio announced the native wildlife protection laws would be reviewed amid concerns over the deaths of more than 400 wedge-tailed eagles in East Gippsland.
Ms D'Ambrosio said the act would be modernised, including the penalties available, and that she never wanted to see a repeat of the eagle killings. In 2018, farm worker Murray James Silvester was jailed for two weeks and fined $2500 for injecting insecticide into lamb carcasses and poisoning 406 of the birds on properties at Tubbut, East Gippsland.
His employer, landowner John Auer, pleaded guilty to lesser charges of misusing agricultural chemicals and received a 12-month community correction order involving 100 hours of unpaid community work. He was also ordered to pay $25,000 to a court fund.
In a different matter, there was international outcry in early 2020 after at least 40 koalas were found dead and more than 140 were rescued from a former blue gum plantation in Cape Bridgewater, near Portland, after it had been logged and then bulldozed.
In a statement, the Office of the Conservation Regulator said it was continuing its investigation into the Cape Bridgewater matter.
Ms D'Ambrosio said in a statement that the Wildlife Act should be modern, fit for purpose and include all the necessary safeguards and penalties to protect Victoria's wildlife.
As a part of the review, the government will also ensure the act recognises totem species for traditional owners, she said. The review will open for consultation with groups and experts in February and March.
Start your day informed
Our Morning Edition newsletter is a curated guide to the most important and interesting stories, analysis and insights. Sign up here.
Miki Perkins is a senior journalist and Environment Reporter at The Age.
Most Viewed in Environment
Loading