Australia's last qualifying series away to South Africa next month is not yet guaranteed to go ahead. If they were to slip to third now, they might find themselves stranded there, and miss the final. This may seem a remote and even arcane calculation, too prosaic for fans wholly occupied by this absorbing series. But it has always been somewhere in Australians' thinking. Captain Tim Paine often mentions it.
So even as the little picture turned to murk and then went blank at the Gabba on Monday evening, a big picture could be dimly discerned. You might think all that time coach Justin Langer spends on his laptop, he is looking at replays, pitch maps and weather forecasts. Surely, he is. But he is a coach, a planner and a pragmatist, also happy in his job. He has to cover all bases.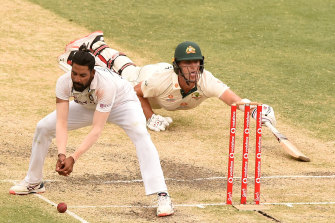 This was a day of watching and waiting, the dullest of this fascinating rubber. Everyone had one eye cocked to the sky, like farmers, but praying against rain, not for it. Actually, they were watching the radar on their laptops. Farmers probably do too, now.
Australia's batting was a typical piece of third innings ad hocery. They strained for runs against persistent Indian bowling and a pitch that was beginning to bounce like an old catching cradle, all the while vigilant against a collapse that would put control of the contest back in India's hands.
Broadcasters love their pitch maps, but, by the middle of the day, this pitch should have been shown in relief rather than as a schematic. Lateral cracks and scuffed bowling creases gave it a lived-in look. Assuredly, it added a degree of difficulty to batting, and played a part in most dismissals. Steve Smith, being Smith, thought he might have pulled his glove off the bat before Mohammed Siraj's lifter flicked the glove and was caught in slips. DRS thought otherwise.
None of this should detract from the another splendid display of team bowling from the Indian stand-ins. Siraj relaxed neither in pace nor intent to take five wickets, making six for the match. Shardul Thakur, also a rookie, took three more, also making six.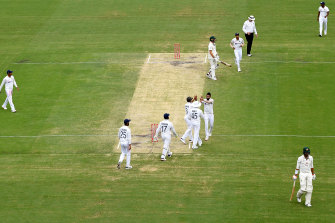 India already were the hardiest and most valorous team to visit these shores for decades. Siraj, Thakur and offie Washington Sundar make them the most surprising, and don't forget Navdeep Saini, who though injured in the first innings returned to bowl a handful of overs in relief in the second. The best team man award is his.
For Australia, the day's return was seven scores between 25 and 55, and for Matthew Wade an unfortunate duck, strangling a leg-side catch to the wicketkeeper, the sort of dismissal that befalls a batsman when his luck is ebbing anyway. In contrast, Marcus Harris played as crisply as he ever has in Test cricket before gloving a catch to the keeper when ducking away from a bouncer from Thakur.
The rest of the batting looked to be in some of working order. But really, there should be no scaling up or down of the returns from this innings; it was the business of the hour.
In doing their three-way sums, Australia had to allow for the weather. Duly, it arrived, with GST. It meant India could not win. For Australia, it meant the means had been justified by at least one of the ends.
Greg Baum is chief sports columnist and associate editor with The Age.