The two sides played out a double-overtime thriller on Sunday, which Adelaide won after the Phoenix missed 14 free throws. This time they were better from the line and more effective defensively before Sykes took charge in the final term with 10 of his points, while fellow import Ben Moore also hit his straps to finish with 10 points and 12 rebounds.
Adelaide big men Daniel Johnson (19 points and 10 rebounds) and Humphries (20 points) led their side.
NBA import Donald Sloan stepped up in the opening minutes, nailing a three and drawing a foul while Sykes looked to assert himself more, finding some early baskets and setting up Mitch Creek for a dunk.
The Phoenix took a slim lead into quarter-time but were reducing the impact of their strong defence by conceding too many offensive rebounds to the plucky Sixers, who continued to stay close despite the visitors threatening to break away several times.
Kyle Adnam had 12 points for the half for the Phoenix, who led 47-43 at half-time.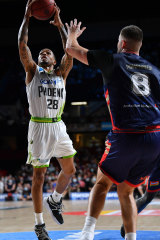 Johnson fired up in the second half, scoring 10 quick points but good responses from Moore and Adam Gibson kept the Phoenix firing, while Sykes threw down his astounding one-handed dunk over Humphries just before three-quarter time as his side led 71-61.
Sykes took over in the last term before his teammates held off the Sixers in the final minute.
Adelaide NBA draft prospect Josh Giddey hopes to be able to return to the court against New Zealand Breakers on Friday night after medical advice kept him out of Wednesday night's game.
Giddey hit the floor hard after losing his balance following a dunk in Sunday's win over the Phoenix and he said a doctor would make the final call on whether he plays on Friday night.
"It will be a doctor's decision on Friday morning, so we will see what he says," Giddey told broadcasters on Wednesday night. Hopefully I'll be good to go."
The Phoenix play Perth Wildcats in Perth on Sunday at 5pm AEDT.