Crews and pilots made up 4808 of the 13,089 who entered Australia in the final two weeks of August.
Emirates was conducting 19 flights a week between Dubai and Sydney, Melbourne and Brisbane, and its decision to suspend the routes caused deep uncertainty for the thousands of Australians in Europe and the Middle East who have been waiting months to get home.
In a statement, the carrier said flights would now resume to Sydney from January 25, Melbourne from January 27 and Brisbane from January 28.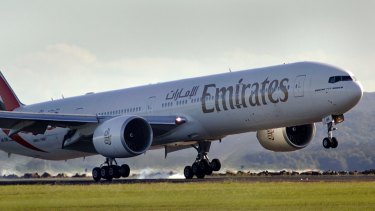 Emirates said it regretted the need to cancel flights but had no choice given the constantly changing rules in Australia.
"The pandemic has made international flying incredibly challenging and the dynamic restrictions and requirements implemented by the different state authorities in Australia had added complexity and burden to our operations," a spokesperson said.
Loading
"This led us to temporarily suspend passenger services while we engaged with various stakeholders regarding crew protocols and other operational details."
Emirates cabin crew and pilots were already being tested for COVID-19 at least 48 hours prior to leaving Dubai, but the system will be strengthened so that staff have a test administered in their home. They will be required to remain at home in self-isolation until their flight.
"Combined with the hotel quarantine and tests on arrival in Australia, this effectively means that our crew are in a 'bubble' from 48 hours before their flight until they return to Dubai," the spokesperson said.
"This is an added burden for our crew as individuals, for our rostering, and operating costs, and therefore this decision was made after careful review and consideration.
"We are grateful that our wonderful crew teams are very understanding and supportive, which has enabled us to quickly restart passenger services."
Thirteen crew members on a LATAM Chile flight from South America were each given a $1000 penalty infringement notice in December for leaving their Sydney hotel where they were subject to isolation orders.
Nearly 40,000 Australians are still stuck overseas nearly a year after the pandemic began, 4800 of whom are classed as "vulnerable".
Qatar Airways, Etihad Airways, Singapore Airlines and Japan Airlines are also running flights to Australia for people in Europe but the cap reduction has already led to some cancellations and delays because more people are booked than the states will allow in.
"Emirates is keen to serve the many Australians waiting to get home, and we hope that commercial and operational conditions will allow us to continue doing so," the spokesperson said.
Loading
The federal government has scheduled 20 new repatriation flights in partnership with Qantas to bring home more Australians over the coming months.
However the first two flights, due to depart from London on January 31 and February 1, sold out within 15 minutes of the Department of Foreign Affairs and Trade emailing a link to make a booking.
About 80 seats on each flight are given to citizens considered the most vulnerable, leaving between 95 and 120 seats for others.
The additional arrivals will be directed to the Howard Springs quarantine facility in the Northern Territory, Canberra and Tasmania.
Get our Coronavirus Update newsletter
Stay across the news you need to know related to the pandemic. Sent Monday and Thursday. Sign up here.
Bevan Shields is the Europe correspondent for The Sydney Morning Herald and The Age.