Before the Kings' third game of the season, Forde hailed the pair for contesting the dunk at the rim, which he believes players are becoming more fearful of due to social media.
"Things like that get glorified, which is fair enough because it's a highlight reel, but it's interesting when you see how it affects players," he said.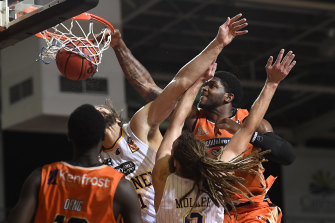 "Junior players coming up, they don't challenge because everything gets blasted on social media. I'd be more upset if the boys didn't challenge."
Forde said his squad had recently given up uncontested lay-ups and dunks due to a fear of going viral.
"They don't want to get involved because of social media," he said.
Forde said the squad did not even acknowledge the dunk after the game.
"At the end of the day, it was two points and they [Cairns] lost," he said.
The Kings fell to the Taipans in a one-point loss for their season opener, but regrouped for a 99-91 win on Saturday. The teams played each other in consecutive games to help keep the season safe from COVID-19.
Loading
It was Forde's first win as Kings coach after the departure of minor premiership-winning mentor Will Weaver. It provided a much-needed confidence boost after the club also lost key import Jae'sean Tate (to the NBA), Boomers legend Andrew Bogut and captain Kevin Lisch (both retirement).
The only setback was a serious knee injury to guard Angus Glover. The Kings will receive scan results on Tuesday to determine the extent of the injury, with fears it could be an ACL tear. The luckless 22-year-old suffered three ACL tears by the age of 20, and another could spell the end of his career.
The Kings flew from Cairns to Brisbane on Sunday, continuing their journey on the road as COVID-19 border closures continue to wreak havoc.
They face the Bullets at 3pm on Tuesday at Nissan Arena.
Sarah is a journalist for The Sydney Morning Herald.