"But after that, there's naturally some discussions to be had, to be on that list relatively high."
The news comes after Cricket Australia officials applied to be prioritised in the queue for the COVID-19 vaccine ahead of next month's tour in South Africa, claiming the tour was risky for both players and staff.
The request was met with backlash from the general public, as well as the chair of the Australian cricket's players union Greg Dyer, who said it was "morally indefensible" for sportspeople to be given priority access to the vaccine.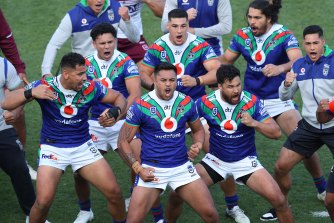 "I understand what Cricket Australia is trying to do, they're trying to go for a tour, and naturally, they want to protect the health of their players so I've got nothing against what they've tried to do," V'landys said. "We want Australian players going over to New Zealand as well."
Loading
The Warriors set up camp in Tamworth on January 3 ahead of the 2021 season and are set to move to the Central Coast until April 4, four rounds into this year's season.
The NRL is hoping the Warriors will be able to host the Manly Sea Eagles at Mt Smart Stadium for round five, with Andrew Abdo describing a home game for the New Zealand side a "priority" for the governing body.
The Warriors have not hosted a game in New Zealand since round 24 of the 2019 season on August 30, after they were forced to remain on NSW's Central Coast during the 2020 season for over 150 days due to border closures.
Players will also still be under protocols this year, but it will be much less restrictive than last year with no bubble due to the infection rate being so low in the general community.