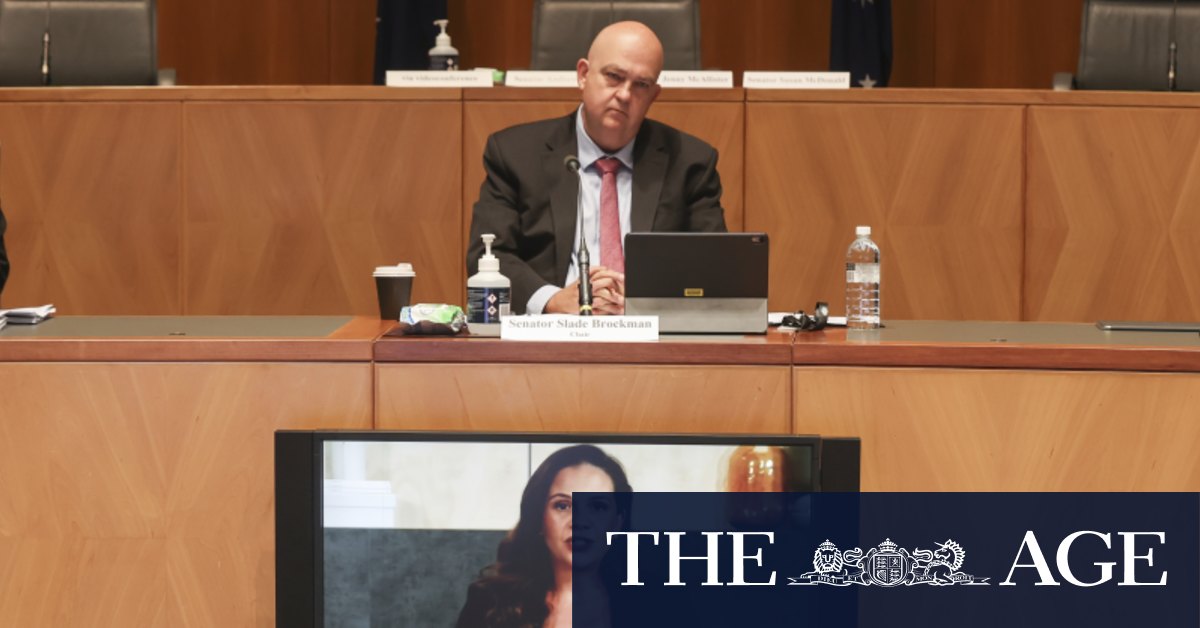 Informal talks about potential deals continued with other major outlets such as News Corp, Nine Entertainment Co (owner of this masthead) and Seven West Media but there was no indication of when the product would launch and no deals were signed.
Loading
Industry sources familiar with Google's conversations said the tech giant had recommenced talks in the past week with the outlets it had previously struck deals with and was preparing for launch.
The sources, who spoke on the condition of anonymity, said Google was expected to roll out News Showcase as early as next month and indicated the launch was an attempt to show the government how the product works following criticisms from senators. Google declined to comment.
Google claims it has committed $US1 billion ($1.4 billion) globally to the News Showcase initiative and has struck deals with more than 400 publishers.
At the inquiry, Liberal Senator Andrew Bragg criticised News Showcase as "pillar of smoke" as he grilled the company's managing director Mel Silva on why it was proposing a payment model that was not available in Australia.
"The proposal you have put on the table, which is Google Showcase, isn't even available in Australia for us to look at, let alone the market participants on the other side of the transaction," Senator Bragg said during one exchange. Ms Silva told the inquiry that Google remained committed to launching the product locally.
Loading
Google is championing a recent deal with French publishers as proof that it is willing to pay for news content. Google and French publishers announced on Friday they had agreed to creating a framework that will allow organisations to negotiate individual licensing agreements regarding News Showcase.
But Australian Competition and Consumer Commission boss Mr Sims said the French deal was only brokered after regulators intervened after Google initially sought to evade paying for news snippets by removing them from search results.
"What Google did in France is negotiated because of the threat under the legislation, which included search, and did deals on Showcase. They could do the same thing here," Mr Sims said. "Google did not do the deals in France because it wanted to. It's only when the French competition regulator stepped in that they did the deals."
Google and Facebook claim the code, which was created by the ACCC to tackle their monopoly, is unworkable in its current form because of its "final offer" arbitration model, the requirement to disclose algorithm changes, and certain provisions that prevent them from punishing publishers that want to be part of the code. Their concerns are based on the belief news articles do not add substantial value to their platforms.
Media giants Nine Entertainment Co (which publishes this masthead) and News Corp have rejected claims the Showcase model is a suitable alternative to the code and strongly contest the idea their content adds little to no value to the tech giants.
Nine publishing boss Chris Janz told the inquiry on Friday the product was exactly what to expect from a monopoly.
"It works at a price set by Google based on an opaque global formula, the take-it-or-leave-it terms are set by Google and it doesn't address the bargaining imbalance of Google's core search product which was identified by the ACCC," he said.
Google has already struck deals for Showcase with seven Australian media companies and they are currently being paid 25 per cent of the amount they would be paid following launch in "good faith". The product piqued the interest of smaller outlets because they are more reliant on Google and Facebook for their audiences. Submissions to the Senate hearing from small outlets such as Man of Many and Junkee Media – which are reliant on these platforms for referral traffic – raised concerns the proposed laws would be detrimental to their businesses and would reduce media diversity.
Zoe Samios is a media and telecommunications reporter at The Sydney Morning Herald and The Age.
Lisa Visentin is a federal political reporter at The Sydney Morning Herald and The Age, covering education and communications.