Gundungurra woman Kazan Brown, who has worked with Ms Halls to raise awareness of the cultural and historical significance of the area, said there were rock engravings, scar trees, camp sites, burial sites and ceremony grounds within the valley that would be wiped out if the walls were raised.
Loading
"It's going to destroy them. The rock art – the charcoal and the ochre isn't going to last past the first flood," Ms Brown said.
"The whole river is the creation story … it's part of our story. When we pass things on we like to be there, it's a lot different from looking at it in a book."
The Gundungurra Aboriginal Heritage Association, which Ms Halls represents, is applying to save the area under Aboriginal and Torres Strait Islander heritage protection legislation.
For Ms Ley to issue a declaration preserving the area, which is within the Blue Mountains National Park, she must be satisfied it is a significant Aboriginal area and is under threat from "injury or desecration".
A spokesperson for Ms Ley said a report was being prepared to support her decision on the application and urged any interested parties to make submissions by February 26.
The Herald last year reported a survey commissioned by the NSW government uncovered 337 sites of significance. The study, which made up part of the draft environmental impact assessment, was conducted over just a quarter of the area affected.
A full survey would reveal perhaps thousands of Indigenous sites and signs of traditional owners' connection to country, Ms Brown said.
Stuart Ayres, the Minister for Western Sydney in charge of the project, previously said engagement "with registered Aboriginal parties and Aboriginal communities that have a connection to the land has been under way since 2017".
Comment regarding the application has also been sought from the NSW government, which was unable to respond before deadline on Thursday.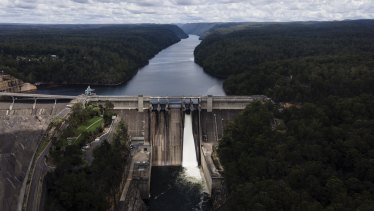 In a leaked briefing note to Aboriginal Affairs Minister Don Harwin, Heritage NSW recently criticised the consultation with traditional owners as inadequate, saying modelling was needed to determine the likely impacts on cultural heritage from inundation.
A government spokeswoman said an updated Aboriginal Cultural Heritage Assessment would be shared with Registered Aboriginal Parties for review and comment.
Angus Thompson is an Urban Affairs reporter for The Sydney Morning Herald.