Bellamy was happy for his Zoom call with Christian to be reported, but wanted to keep the details private.
Like the Storm, the Sixers' on-field success is being heavily driven by the bond and camaraderie that exists away from the field.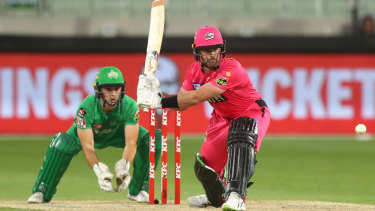 "Spending 24/7 together in hotels, always going to breakfast together, lunch, dinner, playing golf together, it's been a key to our success," Christian said. "You don't get to play in too many teams during your career where everyone in the squad, on and off the field, including support staff, where you'd be more than happy to go for a beer or a coffee with them. The whole place is full of good people.
"It's not cliquey, there's a mutual respect amongst the group. You certainly don't get that in the majority of professional teams you play in.
"When you play this format, you come across a lot of people who do it for themselves and are there to fill the coffers up before they retire as opposed to trying to form a bond with the people you're playing with and have some success. That's certainly what we've got here."
There was a harbour cruise organised for the players and staff on New Years' Eve when the team were on the Gold Coast.
There was a "cracking day" at an Adelaide vineyard with James Vince showcasing his beautiful singing voice on the lively bus ride back home.
Plenty of the players have also hit the golf course with Justin Avendano playing off scratch, Christian with a handicap of two and Moises Henriques of three.
Coach Greg Shipperd has made a point of the players enjoying a drink – alcoholic or non-alcoholic – after each game.
Lloyd Pope has video games and chess, while a few of the older brigade have sat around watching replays of rugby league and VFL games from the 1980s.
Christian said Perth deserved plenty of respect and "their bowling attack in particular has been awesome".
"We were happy with being able to host this game and feel we play these conditions here [in Canberra] as well if not better than anyone in the comp," he said.
Loading
Shipperd, who along with Sixers CEO Jodie Hawkins have been instrumental in the franchise's sustained success, said morale had been "exceptional" considering all the venues they had visited had different COVID protocols.
"We've been each other's friends and family on tour," Shipperd said.
Shipperd praised the players who had not been regular starters for remaining upbeat and helping keep spirits high.
Should the Sixers beat the Scorchers on Saturday night, they are not guaranteed a home final in Sydney – but they are guaranteed to enjoy each other's company afterwards.
Christian covers rugby league for The Sydney Morning Herald.