Paradice would not confirm the size of its GameStop investment. However, market data indicates it may have missed out on an incredible windfall by selling the stock.
According to data from FactSet based on US regulatory disclosures, Paradice held around 1,833,000 GameStop shares as of September 30. GameStop's shares hovered around $US17.50 to $US18.50 in December and into early January, but exploded as high as $US483 this week.
Paradice would have netted between $US32 million to $US34 million ($41.5 million to $44 million) for selling its stake last month, rather than $US885 million ($1.1 billion) if it had waited until this week's peak, according to these numbers. GameStop shares had fallen back to $US193.60 at deadline.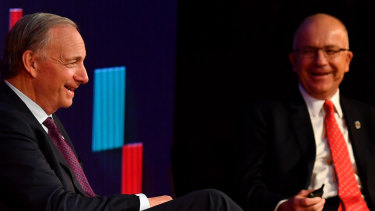 Mr Manly declined to comment when asked whether the firm missed out on one of the biggest share price rises in modern market history.
Other local stocks have been boosted by users of an equivalent local Reddit forum ASXBets. A post on the site on Friday morning touting $23 million zinc miner Ironbark sent shares up over 30 per cent after market open.
Robinhood, the low cost day trading platform used by many US retail investors, stepped in and restricted trading of GameStop and other fast moving stocks, triggering criticism from customers and American politicians. Local low cost broker Stake also suffered a technical outage.
Loading
Democrat Alexandria Ocasio-Cortez likened the revolt to the Occupy Wall Street movement, believing the movement from retail investors to take on professional hedge funds is an opportunity to reduce inequality in the financial sector.
The GameStop frenzy has sparked warnings from regulators and market experts about unsustainable share price rises.
Gemma Dale, Nab's director of SMSFs and investor behaviour, told The Age and The Sydney Morning Herald she expected many of the millennial investors behind the phenomenon were "here for a good time, not a long time" and may not be able to stomach a prolonged drop in markets.
"If you're 25 years old, you've never seen a market downturn that's hung around for more than three weeks," Ms Dale said.
"The GFC took 18 months to go from peak to trough, and that's a really long time to lose money.
"That wore people out, whereas the downturn last year was three weeks. So I think a prolonged market downturn would certainly shake out the long-term investors from the ones here for a good time, not a long time.
"But how long is that going to take? We've never seen stimulus like this, we've never seen interest rates like this. I can understand why people feel that the world has changed."
A spokesperson for major broker CommSec "strongly encouraged" retail investors to remain vigilant. "It's never been more important to get your information from a variety of sources and diversify your investments, as volatility is likely to continue," the spokesperson said.
Business Briefing
Start the day with major stories, exclusive coverage and expert opinion from our leading business journalists delivered to your inbox. Sign up here.
Dominic Powell writes about the retail industry for the Sydney Morning Herald and The Age.
Sarah Danckert is a business reporter who specialises in investigations and corporate wrongdoing. She is a two-time Walkley Award winner, and has won four Quill Awards and two Kennedy Awards.