Pharmacies in major cities will be paid up to $42 per person – $16 per jab, and $10 after the second vaccination – while the vaccine itself will be provided free of charge. In rural and regional areas the payment will be $48 per person.
Typically people are charged $15-$20 by pharmacies for a flu jab, which includes the cost of that vaccine. The government has already announced additional payments for doctors to work after hours and on weekends to perform coronavirus vaccinations.
Prime Minister Scott Morrison said the vaccine rollout "will be free and voluntary and for many Australians it'll be as easy as heading to your local GP or your pharmacy".
"The vaccine rollout is key to our economic recovery plan so this investment is about giving people as many ways as possible to safely get their jabs at the most convenient location for them."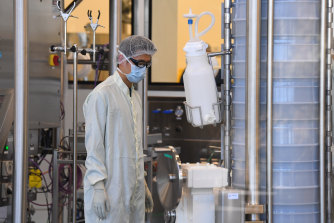 Health Minister Greg Hunt said using community pharmacies would "ensure the general population have broader access to COVID-19 vaccinations, provide choice in where the community receive a vaccine and address barriers to access some parts of rural and regional Australia".
Phase 1a of the vaccination program uses the Pfizer vaccine and is due to start in late February with about 80,000 shots per week, while the AstraZeneca vaccine rollout is due to start in early March.
About 1.2 million offshore-made doses of the AstraZeneca vaccine are due to arrive in March. The first 2 million doses of what will eventually be 50 million locally-made AstraZeneca vaccines are due to begin distribution in late March, ahead of schedule.
European leaders on Friday published new export controls designed to give EU citizens priority access to locally produced jabs even though other countries, including Australia, are also relying on supplies from European factories. Pfizer and AstraZeneca will now have to ask the EU for approval before vaccines can be flown abroad.
The EU's export scheme will be in place until at least the end of March, raising the prospect that Australia's early deliveries could be impacted.
Acting Chief Medical Officer Michael Kidd said on Saturday the rollout of the overseas-sourced AstraZeneca doses was on track for early March but conceded that was "subject to TGA [Therapeutic Goods Administration] approval and final shipping confirmation".
"The latest guidance from AstraZeneca is for supply of approximately 1.2 million doses of the AstraZeneca vaccine from offshore during March, and the company remains committed to the full supply of 3.8 million offshore doses, and we'll reconfirm additional shipping dates."
Loading
However Labor's spokeswoman for government accountability, Kristina Keneally, said on Saturday that Mr Morrison "had promised there will be 4 million Australians vaccinated by the end of March, frankly, he can't make that promise".
"We're not even going to have 4 million doses of the vaccine in Australia by the end of March, the numbers don't add up."
Western Australia announced on Saturday that Queenslanders would be able to enter the state without quarantining from Monday, while Victorians will be able to do so from Friday, February 5. People from New South Wales will still, however, have to quarantine to enter the state – despite 13 consecutive days with no community cases.
With Tom Rabe
James Massola is political correspondent for the Sun-Herald and The
Sunday Age, based in Canberra. He was previously south-east Asia correspondent, based in Jakarta, and chief political correspondent.
Bevan Shields is the Europe correspondent for The Sydney Morning Herald and The Age.