"I was driving my car with the windows down and out the window – across this sea of low, green regrowth – I heard a bristlebird," he says.
Surprised, and a little incredulous, the Monash University lecturer walked 50 metres from the road and saw one of the shy, extremely rare birds. "Its call is melodious and ear-splitting if you're up close, it's really complex. If they didn't call you would have real trouble finding them."
Loading
Dr Clark and other scientists that returned to Howe Flat recently – including researchers from Monash, the University of Wollongong and the Department of Environment, Land, Water and Planning – made a number of interesting discoveries.
The most significant was that the eastern bristlebirds are now occupying areas that had been burnt in high-intensity fires and left a "blackened wasteland", only a year ago.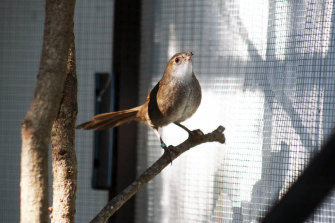 "It doesn't mean everything is going to be OK but it tells us there is resilience in this species, and there are possibilities for recovery here that we might not have considered," Dr Clarke says.
"If some areas get burnt that's not necessarily all bad – they can occupy areas that are recently burnt, and they can use those."
The Victorian population of the eastern bristlebird is confined to Howe Flat and estimated to be around 120 to 160 in the wild.
There were similar numbers in NSW and a much smaller population in Queensland, but the 2020 fires had a significant effect on the NSW birds.
Mick Bramwell, the environment department's team leader for the eastern bristlebird recovery project, said the species had always favoured heathland and scrub areas and not previously been recorded in forested areas.
"A lot of grasses have grown up in the burnt forest areas making it suitable habitat for the species," he said.
Unfortunately, about six of the 15 birds that were originally captured and taken to Melbourne Zoo did not survive. Most of these succumbed to a bacterial infection always present in their system that can overwhelm some species when they get stressed, Dr Clarke said.
It shows the inherent difficulty of trying to secure insurance populations of rare animals that don't have a history of being kept in captivity, Dr Clarke said.
Loading
All of the 15 birds originally captured had a genetic sample taken, which showed they were closely related, which is not genetically ideal. Scientists captured 16 more birds on their return trip (none of the same birds as the original insurance population) and are waiting on the results of genetic testing to see what they reveal.
Start your day informed
Our Morning Edition newsletter is a curated guide to the most important and interesting stories, analysis and insights. Sign up here.
Miki Perkins is a senior journalist and Environment Reporter at The Age.
Most Viewed in Environment
Loading