The second-placed favourites took control of the game at each quarter, keeping GWS goalless at half-time before running out 58-28 winners.
With GWS having been away from home for the past month, setting up a pre-season base in Albury as a result of the COVID-19 outbreak in Sydney's northern beaches, the squad produced a respectable effort.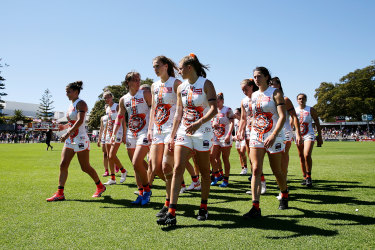 The Giants and the Dockers observed a minute's silence ahead of the match in tribute to Jacinda Barclay, who took her own life in Perth in October. Barclay's No.34 GWS guernsey was placed on the bench during the game in tribute.
The game came a day after GWS' Irish recruit Brid Stack publicly voiced her dismay with the AFL appeals board after it overturned a three-match suspension imposed on Adelaide midfielder Ebony Marinoff.
Loading
Marinoff was initially suspended for forceful front-on contact that left Stack with a fracture of the C7 vertebra in her neck, an incident that doctors said left Stack "millimetres" from a catastrophic spinal injury.
The incident caused an AFLW practice game to be abandoned as Stack was treated on the ground by paramedics for a potential spinal injury with the eventual injury leaving her in a neck brace for six weeks and unable to play sport for 12 weeks.
Stack, who was playing her first game of AFLW after a brilliant career playing Gaelic Football for Cork in Ireland, wrote in the Irish Examiner she had been left with a sense she was to blame for the injury, and burst into tears when she heard the appeals board's decision.