Reading Kitney's columns sent me back to a book of columns by Laurie Oakes, where I soon received a similar jolt. This is from 1994: "Only one politician since Federation has occupied the post of opposition leader without going on to lead his party in an election campaign." What alien stability: since then, we've had three.
I find reading old columns invaluable (a plea to publishers: where are the collections by our great female columnists?). As a political staffer I found them useful for the simple reason that everything has been done before. Mostly, though, it is because old columns do the same thing as metaphors in literature: defamiliarise what is familiar, forcing us to look again at that which has become invisible.
Watching this week's stockmarket convulsions, I found myself wondering what might come to seem commonplace to people of the future. Day traders, many of them with small amounts of money, chatted online and rushed to buy shares in companies that hedge funds had bet against. The small traders won: the shares went up and up. One victor, not quite so small, who had turned his initial investment of $53,000 into $48 million, celebrated on YouTube by dipping chicken in champagne. To his followers, this made sense; as did much of the strange frenzy that followed.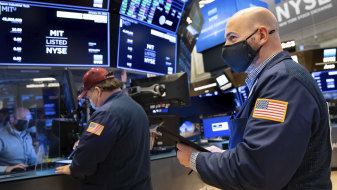 And perhaps, in a few years, this will make sense to all of us. But what sort of sense it is hard to say. Connections are being drawn with the online movement that pushed Donald Trump's candidacy: the shared sense of anarchy, of irony, of anti-establishment sentiment – of trolling, I suppose. What do we file this under – "the power of the internet"? More persuasively, and more disturbingly, the journalist John Herrman last week mentioned the "profoundly nihilistic world view" that underpins such irony. Perhaps this will be everywhere by 2030.
Last year, the novelist Hari Kunzru wrote about one of those Trump forums. On election night in 2016 there was trumpeting of "meme magic", a kind of parody religion. This was ironic, yes, but belief always operates at multiple levels of sincerity. Perhaps this will seem, to our descendants, an overtly superstitious time, filled with people who believed, on some level or other, in 5G viruses, and star signs, and the gospel according to Q.
Yet another possibility is that we are going through one of those periods of history when our conception of time dramatically shifts. Manias take hold because we have collectively decided that everything outside the current moment can be ignored. And this in turn helps us to ignore the largest challenge we face, to slow our changing climate; or perhaps it is our inability to face that coming disaster that drives our frenzied obsession with whatever is trending today.
Loading
The novelist Milan Kundera once wrote that we all live as though surrounded by fog, able only to see a very short distance in any direction; but our descendants, looking back, don't see the fog and judge us harshly. Still, it might be the case that some times are foggier than others. And it might be the case that some people, in some eras, simply resign themselves to the fog, rather than straining hard to see beyond it. I could wish that our descendants look back on us with generosity, and keep in mind the fog, but I'm not certain we will deserve it.