Post-match, Kyrgios admitted the situation may have previously caused him to lose his cool.
"I'm actually happy [with] the way I dealt with it and I just drew from experience. I was nice to myself," he said.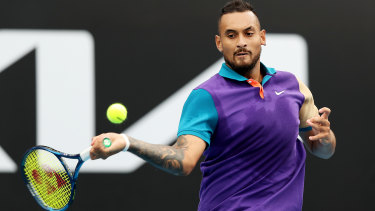 "I was like, 'look, you lost a set, your first set back and you're playing a guy who has nothing to lose really'. He came out swinging.
"He actually played all right. I actually think that he would have beaten a fair few guys in the draw today. But yeah, just all around I just believed."
Kyrgios' level immediately lifted. His biggest weapon – a 220km/h per hour first serve – was unplayable. Many of his service games lasted less than a minute.
In commentary, Wally Masur said Kyrgios' serve was the second best he'd ever seen. Masur said he would take only the serve of 14-time grand slam winner Pete Sampras over the Australian's.
That may be the case but Sampras didn't have anywhere near the same number of lapses in concentration as Kyrgios.
It was one of those lapses which almost cost him the match.
After breaking Muller's serve early in the second set, Kyrgios was cruising to a decider. But he was broken to level the match and had to break back to send the contest to a deciding set.
Kyrgios started to complain about pain in his left knee halfway through the second set.
The 25-year-old wore a sleeve on his lower left leg and called for a medical timeout between the second and third sets.
Loading
"I've had knee problems a lot, but nothing too major," he said. "Just wanted to get some hot cream and that was it."
The complaint hindered the Australian throughout the third set and left him with little choice but to try short points, even more than he typically does.
Kyrgios was creaming forehands but it didn't seem to bother the French 23-year-old. He blocked balls back that would trigger errors from most players on tour and it seemed to frustrate the world No.47.
Neither player managed a break in the decider and the match went into a third-set tie-breaker.
Kyrgios' serve has guided him to a 58.9 per cent career tie-breaker win percentage – a mark typically reserved for the world's best – and he eventually wore down Muller to complete the comeback.
Sam is a sports reporter for The Sydney Morning Herald.