Newly-appointed opposition health spokesman Mark Butler said the government must confirm more details about the national booking system, which is set to be used across the country during the vaccine rollout.
"We need more information about the online booking service that is being prepared by the government – the only way in which Australians will be able to book an appointment to receive the COVID vaccine. Not just information for patients, but information for GPs, for aged care facilities, and the like," he said on Tuesday morning.
On Friday, Mr Hunt called the national booking system a "single front door" through which people can access vaccination appointments, but said people would also be able to call general practices or state-run vaccination clinics to book in.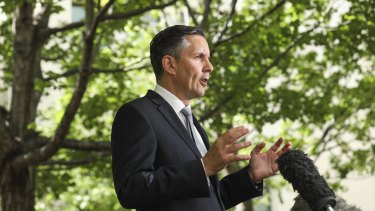 "We're working quietly behind the scenes with the states to make sure that we've got that simple, single front door for people, whether it is online, whether it's through telephone, depending on their circumstances. They will also be able to go direct to their GPs," the minister said.
Mr Butler said more information about the booking system should have been available "much sooner" given it is already February and the government has planned for four million people to be vaccinated by the beginning of April.
Loading
"Doctors don't know how they will be able to arrange for patients to come and see them," he said. "If your GP is not one of the 2000 or so that have expressed interest in rolling out the vaccines, patients don't know how they'll be connected to a GP who will be able to roll out the vaccine."
Doctors said they need more details about the system, with some detail expected later this week.
Previously, Australian Medical Association president Dr Omar Khorshid said the online booking portal was a crucial element of the vaccine rollout.
"If it's clunky to use, if it fails, then it will increase the burden on the vaccination centres and make the whole process of vaccination that much more difficult," he said.