Up to nine Australian-built amphibious vehicles will be delivered from 2026 and be larger and faster than the existing fleet of amphibious vehicles, which were delivered in the 1960s and were used in the Vietnam War.
Loading
At about 10 metres long and three metres wide, the new vehicles will be about 40 per cent larger than the existing fleet of vessels, which have undergone a number of life-of-type extensions in the more than 50 years they have been in service. The LARC vehicles, which were first developed in the 1950s, were used during the evacuation of Mallacoota in Victoria during the 2019-20 bushfires.
The new vessels, which can carry at least five soldiers, will be able to more quickly transport troops and equipment from the ocean and across land to support combat operations and humanitarian operations such as bushfires and cyclones.
A new fleet of landing craft will also be built that will be able to carry the amphibious vehicles, as well as other equipment up to 70 tonnes. Both vessels will be able to be deployed from ships in the area.
Defence Minister Linda Reynolds said the new vessels will be able to quickly and effectively deploy both domestically and in the near region, "as well as remain engaged with regional security partners and support humanitarian assistance to our neighbours in the Indo-Pacific".
"We have also seen the importance of the Army water transport capability most recently on Operation Bushfire Assist 19-20, evacuating Australians to safety off beaches and delivering much needed supplies," she said.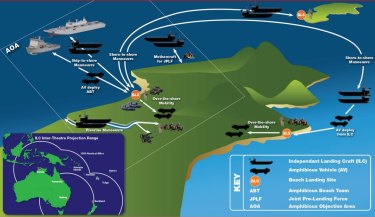 An invitation has already gone out to Australian industry to register interest and Defence expects to go to the government with an option to build the fleet next year.
A Defence spokesman said the primary focus would be on delivering "a contemporary capability that provides support in and around the shoreline", as well as project into the Pacific.
"That ability to have one platform to do multiple things means you aren't putting pressure on finite resources or seeking two different fleets to achieve one task," the Defence spokesman said.
"Whether that's support to humanitarian assistance, disaster relief in the region, what that means is you can actually drive that aid all the way to the point of requirement."
He said the landing craft – which will be able to project up to 1000 nautical miles – would be able to lift all of the systems coming into service "up to and including a tank".
Anthony is foreign affairs and national security correspondent for The Sydney Morning Herald and The Age.