In 2011, a high time for the Magpies as reigning premiers, and for Lumumba as an All-Australian footballer, the club introduced or updated policies on discrimination, harassment and bullying. It would have thought of itself as a leader then.
But the policies made no reference to racism. This left little scope to handle complaints, except when they became public, and then they became a matter of public relations management, not principle.
"It was often pointed out that sexual misconduct and behaviour such as drink-driving, drug-taking and poor behaviour in public all attracted penalties which reinforced the unacceptability of their behaviour," the authors write. "Racist conduct was not held to the same standard."
Because incidents were addressed in isolation, there was no reflection.
The core of the problem was a poor understanding of forms of racism. Interpersonal racism includes slurs, violence or deliberate exclusion and is obvious and would be abhorred by most.
Structural racism is deeper and more pernicious. "It produces different outcomes for people who are not white and results, even if not intended, in a hostile environment for Indigenous people and people of colour. It is these more entrenched forms of racism that people find harder to identify," the report says.
"Structural racism doesn't mean that everyone in the club is racist, but it does mean that the efforts of individuals to make changes within the club will be thwarted.
"When incidents of racism have been raised, it is not clear that the club as an organisation has reflected and changed – even if some individuals have taken the time to contemplate, reflect and think differently."
This is what Lumumba means when he says that merely declaring yourself not to be racist does not automatically wash away the unwitting prejudices that any one person or organisation assimilates as they grow. That takes an effort. Goodwill is a condition for good work, not a substitute.
In 2018, Collingwood invited the impressive Jodie Sizer, a Djab Wurrung/Gunditjmara woman, onto the board, and appointed a manager for its Aboriginal and Torres Strait Islander program. Last year, it updated its harassment, discrimination and bullying policies to address racism explicitly. The report acknowledges these initiatives.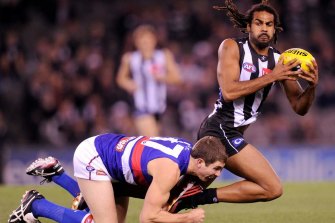 "However, there was little evidence of support, resources or a broader educational program that would back up this new way of thinking in Collingwood and give power to the policies," it says.
"It was a matter of concern that large sections of the club did not know about the policies or their legal obligations, under them."
The disruptions of 2020 did not help in socialising them at a widely scattered club.
Do Better urges Collingwood to acknowledge the blemishes of the past, apologise, make reparation if necessary, but above all learn. And that doesn't mean simply ticking a box marked "learnt".
"Collingwood will be a better organisation if it can come to terms with its past rather than put it to one side and pretend it can move forward without looking back," it says. "Otherwise, the past will continue to throw a shadow over the club."
It is a nuanced report. In its own way, it barracks for Collingwood. It wants the Magpies to do better for their own sake, and ultimately the code's. The thrust of its famous 18 recommendations is greater awareness, and all that flows from that, on the part of everyone from the president to the least waterboy. That's the saying. It's the doing that will be the hard work.
Loading
After the first explosion when Do Better dropped, the next loudest sound this week has been the silence of the rest of the industry. Faintly discernible in it was a muffled scraping as 17 other clubs pulling open half-jammed bottom drawers, and at the AFL, someone thumbing through the "J" folio looking for the Jackson report.
"There was a sense," says Do Better, "that to date, dealing with racism was something that could be done when other things have been taken care of."
In the many upheavals of 2020, this surely has changed.
In concluding, Do Better says: "Now it is the time for Collingwood Football Club to meet the moment." Joffa could not have said it better.
Greg Baum is chief sports columnist and associate editor with The Age.