Somewhat predictably, she was a leading proponent of Donald Trump's false claim that the election was stolen from him.
The mounting evidence of Greene's conspiracy theorising and violent rhetoric has led to growing calls for McCarthy to remove her from the House education committee.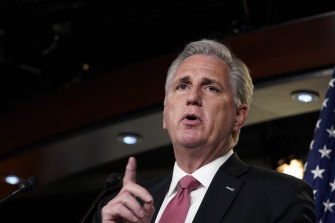 There's precedent for such an action: Republican congressman Steve King was stripped of his committee assignments, and later forced out of office, in 2019 for remarks that appeared to condone white supremacy.
After Morrison spoke to Kelly this week, his office briefed out that the Prime Minister had told Kelly to pull his head in and stop undermining scientific advice.
It was a different story when McCarthy met with Greene in Washington for 90 minutes this week.
In a statement on Thursday (AEDT) McCarthy said that he unequivocally condemned Greene's past comments and that they "do not represent the values or beliefs of the House Republican Conference". But McCarthy hasn't taken action to remove her from her committee post.
He has come under pressure from Democrats for his inaction.
House Speaker Nancy Pelosi had earlier released a pointed statement claiming McCarthy's "failure to lead his party effectively hands the keys over to Greene – an anti-Semite, QAnon adherent and 9/11 Truther."
Pelosi's release designated "McCarthy (Q-CA)", a scathing spin on the minority leader's designation "R-CA", as a Republican from California.
But McCarthy dismissed Democrats' calls to remove her from legislative committees as a "partisan power grab."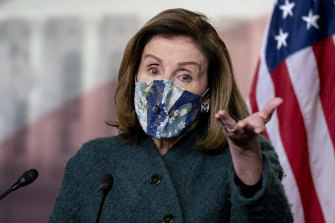 In Pelosi's statement, she said Democrats are continuing to seek the removal Greene from her position through a full vote in the House.
While Greene may be an unwelcome irritant to McCarthy, he is aware that she is a popular figure among the Trump base.
Indeed, Greene has touted that she spoke to Trump in recent days and said that she has his support.
Trump himself, of course, gained popularity among conservatives by promoting the false conspiracy theory that Barack Obama was born overseas.
Instead of marginalising Greene, some Republicans were instead focused on punishing Liz Cheney, the third most senior Republican in the House, for voting to impeach Trump for inciting the January 6 Capitol insurrection.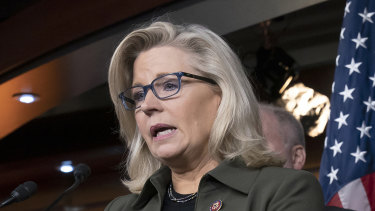 Republican congressman Matt Gaetz, one of Trump's most loyal supporters, even flew to Cheney's home state of Wyoming to call her her to be stripped of her leadership role.
In a secret ballot on Thursday (AEDT) Republicans voted 145-61 to keep Cheney in her current role.
At the same meeting, Greene reportedly received a standing ovation from some of her colleagues.
The bickering reflects a deeper schism within the party about how to balance its establishment wing (represented by Cheney) and its populist, pro-Trump faction (represented by Greene). While the Republican base may be enthused by Greene's conspiratorial style, many the party's corporate donors don't want to be associated with her extremist views.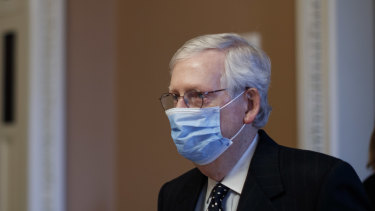 Republican Senate leader Mitch McConnell made his position clear in a statement praising Cheney as "a leader with deep convictions and courage."
In another statement – clearly aimed at Greene -McConnell said: "Loony lies and conspiracy theories are cancer for the Republican Party and our country.
Loading
"Somebody who's suggested that perhaps no airplane hit the Pentagon on 9/11, that horrifying school shootings were pre-staged, and that the Clintons crashed JFK Jr.'s airplane is not living in reality."
Republican Senator Mitt Romney this week said that Republicans must "separate ourselves from the people that are the wacky weeds" while strategist Karl Rove called her a "problem for our party".
But it's unclear whether these views will carry the day with their Republican colleagues in the House.
Republican congressman Jim Jordan told Fox News there would be a slippery slope if Greene is punished for her views. "Tell me where it ends," he said. "Who's next? Think of the cancel culture."
In a two-party system like the US, the Republican and Democratic parties must be broad churches in order to have a shot at victory.
We're about to learn whether the Republican Party is a broad enough church to house traditional conservatives like Cheney and conspiracy theorists like Greene.
Matthew Knott is North America correspondent for The Sydney Morning Herald and The Age.