A special commissioner, John Bigge, was sent over from London to hold an inquiry into the running of the colony. Just as Fox News perpetuated Donald Trump's deceits, Bigge sought out the enemies of the Macquaries, and asked leading questions, scouting for any dirt. He ignored their supporters, refused to take evidence under oath – despite being a lawyer himself – and surrounded himself with the cronies of their biggest critic, John Macarthur, who'd lent Bigge an Arab stallion. It was an appalling exercise in corruption and personal ambition.
As the fake news swirled and built around the colony, many who saw what was going on said little in Macquarie's defence. They wanted to ingratiate themselves with the British, especially as many believed Bigge was set to be the new governor. As a result, Bigge's report was damning and Macquarie ended up a broken man, telling London he wanted to quit. On February 3, 1821, a new governor, Sir Thomas Brisbane, was appointed in his place. The failure to speak out against spin set Australia's progress back hugely.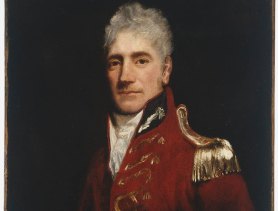 Macquarie wrote a rebuttal of the accusations that were made against him but, since the government had accepted Bigge's report and acted on it, to acknowledge the evidence he proffered in his own defence would have been an admission of the government's failure and stupidity. But one woman refused to shut up. It was Elizabeth Macquarie. When her husband died in 1824, just a year after arriving back in London, she wouldn't let the fake news go unchallenged.
Despite living in penury, she doggedly turned down the pension she was due, saying she would never accept it until Macquarie's name was cleared, and his rebuttal was read out in Parliament. It was a lesson then, as now, in absolute courage and determination to make the truth prevail. It took four long years, but finally her stand was successful in 1828, and his report was read in Parliament, and she accepted the pension.
So we don't need to look much further than our own country to see the terrible damage fake news can unleash on a democracy. We now seem ready to own it, too. How fitting that this is the year Australians voted the term "fake news" to be the word of the year in the annual poll of the Macquarie Dictionary, named in honour of the editorial committee formed from Macquarie University – which was itself christened in honour of Lachlan Macquarie.
We know only too well the potency of fake news. It needs to be challenged wherever it rears its ugly head, as otherwise it has the power to assume a life of its own. And then we're all culpable.
Sue Williams is the author of the newly released Elizabeth & Elizabeth, an historical fiction examining the lives of Elizabeth Macquarie and Elizabeth Macarthur, published by Allen & Unwin.