So the architecture is similar. Behind it, though, the spatial politics are chalk and cheese.
Green Square, which began 20-odd years ago as a rather sedate four storeys but suddenly exploded into high-rise, is Australia's biggest urban renewal project. Already jampacked, it will be, when complete, Australia's densest neighbourhood. So the new aquatic centre is well deserved and keenly awaited. Even on day one, the place hummed with locals keen for a sticky-beak, a coffee and a splash.
It makes big claims. Billing itself an "urban beach", Gunyama must live up to a swathe of silly archi-speak: promising to "match the primacy and hedonistic experience of swimming in Sydney's beach and harbour pools", on a site that was "re-imagined as a continuous wetland landscape of the original Botany Swamp, with a series of pool and recreational landscapes embedded through topographic insertions into the wetland landscape, creating a continuous park footprint…" Oh, please.
Beach, harbour pool, wetland? This guff undermines the important point that a city pool – not salty, not wave-lashed, not subject to urchins or bluebottles – is a lovely thing. Gunyama needn't pretend. A pool – especially full-length, outdoor, winter-heated and non-chlorine-reeking, as the City of Sydney does them now – is a blessing in its own right. A pool is a cultural gift.
As to the architecture? Here, too, the reality is subverted by the promise. The images, memorably seductive, showed early-morning yoga beside an outsized arched window positioned somewhere between luxury retreat and Greenwich Village loft.
In reality, the hundreds of tonnes of pale concrete that soar and arch their way around the glorious planes of turquoise water, although less celestial than promised, are handsome enough. You'll have noticed how architects are back in love with concrete, despite it being widely scorned as the world's most environmentally destructive material. They also love those faux-poetics, using one to clothe the other. Those twin toxicities aside, this remains a fine aquatic centre.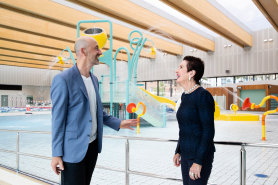 This $106 million centre, the largest new pool complex opened in Sydney since the 2000 Olympics, offers three indoor pools and a vast range of elegantly finished fitness and health studios, all roofed with gardens, solar arrays and rainwater collection. Softening the outline of the outdoor eight-lane 50m pool is the shallow, informally-shaped "beach" and, beyond that again, a large playing field in all-weather artificial turf.
It's impressive, and it's not the first. The City of Sydney council area already had three such lovely, all-year, outdoor Olympic pools: Victoria Park, Prince Alfred Park, Andrew (Boy) Charlton. This is number four. All municipalities should be so blessed.
Parramatta has none. It's hot out there. In 2018-19, one Parramatta Street with only 10 per cent tree cover recorded 13 days of 40 degrees or more. Yet that summer, and the appalling one that followed, Parramatta was poolless, its beloved War Memorial Swimming Centre, set on the city edge of the beautiful Parramatta Park, having been paved over for the ugly new Western Sydney Stadium.
The replacement, still two years away, will be on the other side of the tracks at Mays Hill. Its form is oddly reminiscent of the Green Square Library, with its central Olympic-size pool set into a great round hole in the earth, around which the other (underground) pools and facilities are arrayed.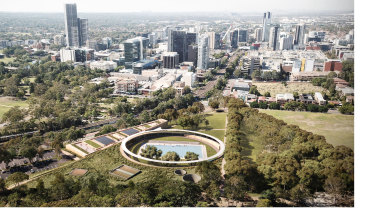 It's pretty, but the politics are ugly. For some reason a great muscular stadium, 10 times the pool's old footprint and a thousand times as intrusive, can occupy this World Heritage-Listed park, but a plane of water cannot.
The old pool was an easy walk from the city centre. The new one's a driving affair. And now the Leagues Club proposes a shiny 17-storey hotel as well, designed by Hassell on a very bad day, right beside the stadium.
Loading
Being deemed a "state significant development" – I'm sorry, what? – this hotel by Hassell sidesteps normal approval processes to land on the desk of Planning Minister Rob Stokes. There, its approval is all but assured. And if this constant slippage of public amenity into private gain makes you hot under the collar, tough. There's another two scorching summers to go before you can cool off in a decent local pool.
Elizabeth Farrelly is a columnist.