On Friday, Constable David Hall was due to appear before Ringwood Magistrates Court but his case was adjourned administratively and he was not required to face court. His case is due to return in June.
Constable Hall is charged with two counts of disclosing police information without reasonable excuse. He is suspended from work without pay.
Charge sheets allege that on May 3 last year, Constable Hall sent three text messages each to a man and a woman, and that the messages contained information about Laidley's arrest, drug possession, possible charges and her gender.
Two other officers have been charged with releasing photographs of Laidley following a police investigation that also resulted in some officers being disciplined within the force.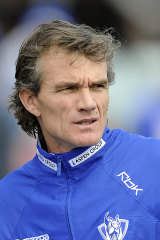 A senior constable is due to face court next week and a detective is scheduled to appear in March.
Laidley pleaded guilty to stalking after admitting she made dozens of calls and text messages between April 25 and May 2 last year, and watched and photographed the other woman from outside her home.
Laidley spent nine days in custody after her arrest until she was granted bail and later underwent treatment for drug and mental health problems.
The release of the photographs caused her and her family "considerable distress", her plea hearing was told in November.
If you or anyone you know needs support call Lifeline on 131 114, or Beyond Blue's coronavirus mental wellbeing support service on 1800 512 348.