They were almost punished as early as the third minute when the speedy Dylan Wenzel-Halls was played through by Josh Brindell-South, outpaced the central defensive pairing of Ryan Shotton and Dylan Ryan and was only denied by Max Crocombe, who conceded a corner.
But it didn't take long for Wenzel-Halls, the A-League's most exciting young striker, to open the floodgates and again it was his pace (and Shotton's lack of it) that played a crucial role as he ran past the former Premier League centre-back and sent in a low shot that Crocombe completely failed to read, the ball squirming away from him and into the net.
Five minutes later it was two, and once again Victory's lack of awareness, urgency and competitiveness cost them.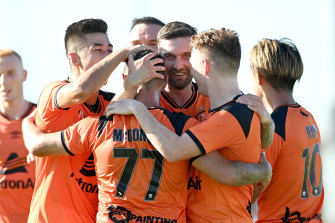 As Ryan headed the ball to what he hoped was safety it dropped invitingly into the path of Scott McDonald, the former Socceroos frontman , who was left completely unmarked at the edge of the area. He needed little encouragement to put his foot through the ball and beat Crocombe with a searing half volley from distance.
Three minutes later the advantage had increased again and once more it was from the sort of defending common in park football. Crocombe and defender Adama Traore both went for the same cross, and the ball fell to Riku Danzaki to sweep home from close range.
Loading
That all happened in the first 17 minutes and Victory had barely touched the ball, never mind looked like creating anything. However, in their first foray forward, when Traore galloped down the left and drove a cross into the centre, they somehow scored.
Young striker Luis Lawrie-Lattanzio charged to the near post and got a touch to deflect the ball wide of Jamie Young.
At 3-1 they might have felt recovery was underway, but Roar stretched the gap to three again in the 35th minute when McDonald, one of the smallest men on the pitch, was left alone from a corner for a free-header as Victory's defenders stood as though petrified while the ball sailed across the area.
But Victory, somehow, inexplicably, got a sniff once again in the shadows of the interval when Robbie Kruse was brought down on the edge of the Roar area to win a free kick, which Jake Brimmer cleverly converted.
At 4-2 Brebner and his coaching staff might have held wild hopes of an extraordinary second half recovery, but they were snuffed out four minutes after the restart when Danzaki notched the fifth.
Brebner made some changes, but Victory was never in the race. Brebner is enduring a baptism of fire in his rookie season, and it is to be hoped he has flame proof equipment to offer protection.
Michael Lynch is The Age's chief soccer reporter and also reports on motor sport and horseracing