It was the first time the two teams had met after a practice game in January when GWS player Brid Stack suffered a fracture of the C7 vertebra in her neck.
The injury left her in a neck brace for six weeks and unable to play for 12 weeks.
The AFL appeals board overturned a three-match suspension imposed on Adelaide midfielder Ebony Marinoff over the tackle with Stack saying she "broke down in tears" after the decision.
Sunday's game was Marinoff's first game back following the suspension.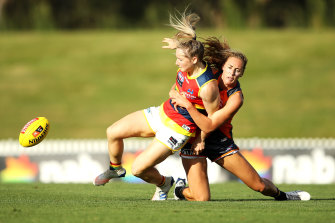 "There was no issue at all there," Clarke said post-match if he had spoken to her ahead of the game about the incident.
Loading
"She is a great player, she works extremely hard … she is getting some reward which is nice, we are pleased with her."
The match was played behind closed doors despite the SCG hosting 28,000 fans in the BBL final on Saturday night, after a hectic week that saw both teams forced into quarantine in the lead-up to the match but given exemptions on specific days to train.
The Crows and GWS both flew to Adelaide just half an hour before WA announced their lockdown before flying to NSW for Sunday night's game.
The AFLW is yet to confirm next week's fixtures due to the changing border policies, however, GWS head coach Alan McConnell refused to blame GWS' back-to-back losses on the COVID-19 chaos.
"I don't want to make excuses, there no place in the game for whingers," he said.