Darren Crocker's Roos weren't at their best for much of the day so that they still won comfortably should be a cause of concern for other sides.
North Melbourne as ever had a mountain of options inside 50, with Daisy Bateman, Jasmine Garner, defender Tahlia Randall and Ash Riddell all getting on the end of good work up the ground. Jenna Bruton was prolific in the midfield while Kate Gillespie-Jones led the way in a Kangaroos' defence that again conceded just a single goal.
St Kilda were plucky for lengthy periods and weren't helped by the loss of Bianca Jakobbson to a corked back. She didn't appear after half-time.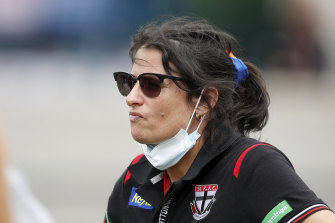 Speaking after the game, Searle stressed that she did not want to make excuses for her side's performance but argued that the Roos – in their third AFLW season – had been given a leg-up in building their list compared to the second-season Saints. The Kangaroos plucked a host of established guns from across the league in a 2018 off-season raid, compared to St Kilda's more modest gains in 2019.
"North are an outstanding side. They've got a great list. They started with a great list and they've been gifted top-10 players every year to top up," Searle said.
"Clearly for an expansion club, I would have wanted more than we got. Anyone would, so I don't think there's anything wrong in saying that. But we're happy with where we're at, but were we happy with our performance? No."
Clubs are hopeful of finding out who they will play in round three early this week, with the AFLW fixture already redrawn several times because of COVID-19.
North coach Darren Crocker said Jess Duffin (adductor) is likely to be available to return against whoever the Roos play next.
YOUNG TALENT TIME
It was among the most compelling match-ups of the day: second-gamer Tyanna Smith, the No.6 pick in last year's national draft, and North skipper Emma Kearney, a veteran of the competition and still one of the league's leading midfielders.
Kearney was typically prominent but Smith held her own for much of the contest. The youngster racked up 11 disposals in the first half, consistently winning the hard ball and showing tremendous poise in the contest.
While Smith missed a set shot late in the first term, she made amends to slot the Saints' first goal as St Kilda took control during the second quarter. But as North got back on top in the third quarter it was Kearney who again wrested the ascendancy in the head-to-head, with Smith kept to just one disposal for the quarter.
Second-year Saint Georgia Patrikios was outstanding again, always appearing to be in space as she found a stack of the ball. Between Patrikios and Smith, the Saints have found the nucleus of a midfield for years to come.
ELL OF A HIT
Ellie Gavalas had been one of North's best in their round one win against Geelong and she was again busy on Sunday. She kicked an important third-term goal to steady the ship for the Kangaroos, the beneficiary of a free kick after a full-hearted but overzealous slam tackle from Saint Tarni White. Gavalas thankfully walked away from the incident OK but White could be looked at by match review officer Michael Christian.
Loading
FAMILIAR FACE
In AFLW Pride round, it was only fitting that of St Kilda's four co-captains, Kate Shierlaw took the responsibility of attending the coin toss on Sunday. The face looking back at her was one she knows very well, Kearney. Shierlaw and Kearney are in a long-term relationship and embraced the celebration of diversity and inclusiveness in the league, which was held across the whole weekend.
AROUND THE GROUNDS
Elsewhere in AFLW on Sunday, Gold Coast were held to the competition's lowest-ever score as they were thrashed by the Brisbane Lions 10.5 (65) to 0.2 (2). And in Sydney, Adelaide continued their unbeaten start to the season, defeating Greater Western Sydney 9.8 (62) to 2.3 (15). Giant Tarni Evans will face match review attention for a dangerous tackle that sidelined Crow Ailish Considine.
Daniel is an Age sports reporter