"It was a nice reminder for us, as the players, to remember who we were representing, and what a brilliant city to represent," captain Moises Henriques said on Sunday morning, after just five hours sleep.
The Sixers spent almost 60 days on the road in the 2020-21 season, after the December Avalon outbreak saw home games scheduled for the SCG the following month moved elsewhere.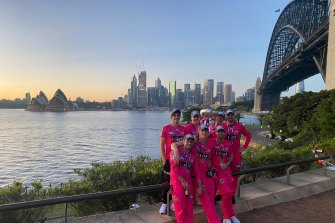 Little did the Sydney team know the time away from the harbour city would prove to be a key element of the Sixers' successful season, bringing them tighter together. Veteran spinner Steve O'Keefe, who claimed his third BBL title on Saturday, described the 2020-21 victory as the sweetest win of them all.
Cricket Australia and BBL organisers were also celebrating on Sunday after the final recorded an average audience of 1.31 million, up 12 per cent from last year's 1.174 million.
The finals series was the most watched in history with a combined audience of 5.24 million, up 11 per cent from last year.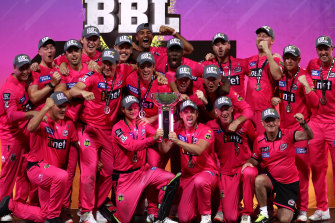 It was a great result for the league, which had recorded back-to-back declines in the average free-to-air audience for regular season games, and is still at the centre of a legal stoush between CA and host broadcaster Seven West Media.
Big Bash boss Alistair Dobson said the increase in viewership had instilled a level of "optimism" with clubs and everyone involved, but he added there was still work to be done to improve the tournament.
"This season there has certainly been some great momentum," Dobson said after the Sixers' win.
"The show the players have been able to put on has been incredible, particularly in the context of being away from home for long stretches of time."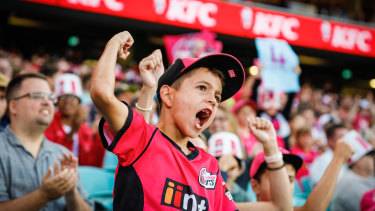 The Big Bash will now enter a review period during the off-season to address a number of issues raised in the tournament's tenth installment.
First on the agenda will be assessing the need for a decision review system, after a number of howlers became the biggest source of frustration for fans.
Loading
The decision to start Saturday's final at the family-unfriendly time of 7.40pm, which pushed the game beyond 11pm, will also be reviewed.
Dobson said new rules brought into this season, including power surges and replacement players, will be discussed but were "broadly successful".
"I think we will still keep innovating on the field," Dobson said.
"We've shown [through this season] we've got an appetite to innovate, to continue to make the games as exciting and interesting as possible."
Meanwhile, the Sydney Thunder have dropped captain Callum Ferguson for next season.
Ferguson took to Instagram to express his disappointment after being told he would not be offered a contract next year.
"I am now looking forward to what my playing future holds in the BBL," he wrote.
Sarah is a journalist for The Sydney Morning Herald.