Diplomats at the Australian embassy were prepared to assist Dr Turnell in getting out of the country if he requested help, according to government sources.
The Sydney Morning Herald and The Age last week revealed Australia was reviewing its training and education programs with Myanmar's military after it spent almost $1.5 million on the country's armed forces over the past five years.
Australian Foreign Affairs Minister Marise Payne revealed on Monday that the government was also reviewing its foreign aid commitments including vaccines after last week's military coup.
"Our relationships are predicated across a number of areas, and military engagement – albeit relatively low-key – is one of those," she said.
"That engagement is under review as a result of the events of last week."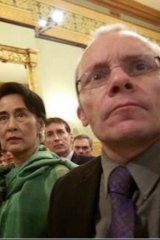 Senator Payne would not be drawn on whether Australia would impose sanctions against Myanmar, but suggested it would be under review.
Senator Payne said Australia was "deeply concerned" with the military coup" and has called for the "immediate release" of Dr Turnell.
"Our embassy has been providing Professor Turnell with extensive support during this ordeal. He is a highly regarded advisor, a highly regarded member of the academic community in Australia," she said.
"I met with him myself when I was last in Myanmar about two years ago and we certainly believe that he should be immediately released.
"Mr Turnell was detained in police facilities in Yangon… we understand that he continues to be detained. We have tried to provide material comforts to him, to support him through that process, and consular support."
Prominent friends of Dr Turnell have said the economist has devoted his life to helping the developing country and should be immediately released by police.
Dr Turnell, a leading expert on Myanmar's economy who has worked as an official adviser to Suu Kyi since 2017, appears to be the only foreigner detained in the upheaval so far and it is not clear what, if any, charges he is facing.
There are about 50 other Australians in Myanmar at the moment.
Anthony is foreign affairs and national security correspondent for The Sydney Morning Herald and The Age.