Thanks for following our blog tonight.
A good day for the Aussies including Nick Kyrgios, Bernard Tomic, Alex Bolt, James Duckworth and Ajla Tomljanovic, who all won through to the second round, as did the big guns Novak Djokovic, Serena and Venus Williams, Simona Halep and Naomi Osaka.
As we leave you tonight, Canadian 11th seed Denis Shapovalov has claimed the second set to level the scores, 3-6, 6-3, against Italian Jannik Sinner.
Good night
Novak Djokovic speaks post-match…
On the crowd: "It makes my heart full to see a crowd in the stadium again. It's one of those things we hope will pass very soon. This is the most people I've seen on a tennis court in 12 months. Thank you so much, I really, really appreciate your support coming out tonight."
On the performance: "There's an ongoing love affair with this court, between me and Rod Laver Arena. I wanted to start off well tonight, first match, night session, definitely one of the most special courts we have on the tennis tour around the world. I've been very lucky to have a lot of success on this court, a lot of memories."
On his frustration at being locked up in quarantine: "I'm just really glad we are free, we're playing tennis and that we're back in Australia. That's all."
On his next opponent, Frances Tiafoe: "I think it's going to be the first time I play against him so I'm looking forward to it."
World No.1 Novak Djokovic has scored a 6-3, 6-1, 6-2 win over Frenchman Jeremy Chardy on Rod Laver Arena.
The reigning Australian Open champion did not give his opponent a break-point opportunity. He served at 74 per cent and won 88 per cent of those points.
Stick around, we'll bring you quotes the post-game inteview from Djokovic.
He still trails a set but Canadian Denis Shapovalov is keeping himself in the contest against Italian Jannik Sinner.
The 11th seed dropped the first set, 3-6, but leads 3-2 in the second set on serve, having wrested back momentum.
Bernard Tomic's renewed flirtation with the Australian Open, and in fact with being an elite tennis player again, continues with the former star walking through to the second round after his opponent was forced to retire mid-match with an injury, writes Michael Gleeson.
Dogged Japanese veteran Yuichi Sugita retired with a side injury in the third set.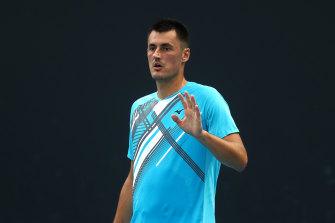 Tomic earned the 3-6, 6-1, 4-1 victory but was more pleased with the quality of tennis he has rediscovered. He was also pleased that he had won a grand slam match for the first time since 2018 at Wimbledon.
Nick Kyrgios has breezed into the second round of the Australian Open with a straight sets win but it was comments directed at his box which have set social media alight, writes Sam Phillips.
Kyrgios beat Portuguese qualifier Frederico Ferreira Silva 6-4, 6-4, 6-4 in front of a small, vocal crowd at John Cain Arena, setting up a second round clash with 29th seed Ugo Humbert.
Novak Djokovic is just two games away from another Australian Open first-round win.
Having won the first two sets, 6-3, 6-1, Djokovic broke on his fourth opportunity for the game to take a 4-1 lead.
Jeremy Chardy tried a drop shot, but Djokovic was too quick, getting to the ball and chipping it over the net cross-court.
In case you missed it, check out this ridiculous shot from Nick Kyrgios.
He trails a set, but Canadian Denis Shapovalov has held serve to lead 1-0 in the second set.
The 11th seed hit a lovely running forehand winner to wrap up the game.
World No.1 Novak Djokovic is making light work of French opponent Jeremy Chardy.
After saluting in the opening two sets, 6-3, 6-1, Djokovic leads a break, 2-1, in the third.