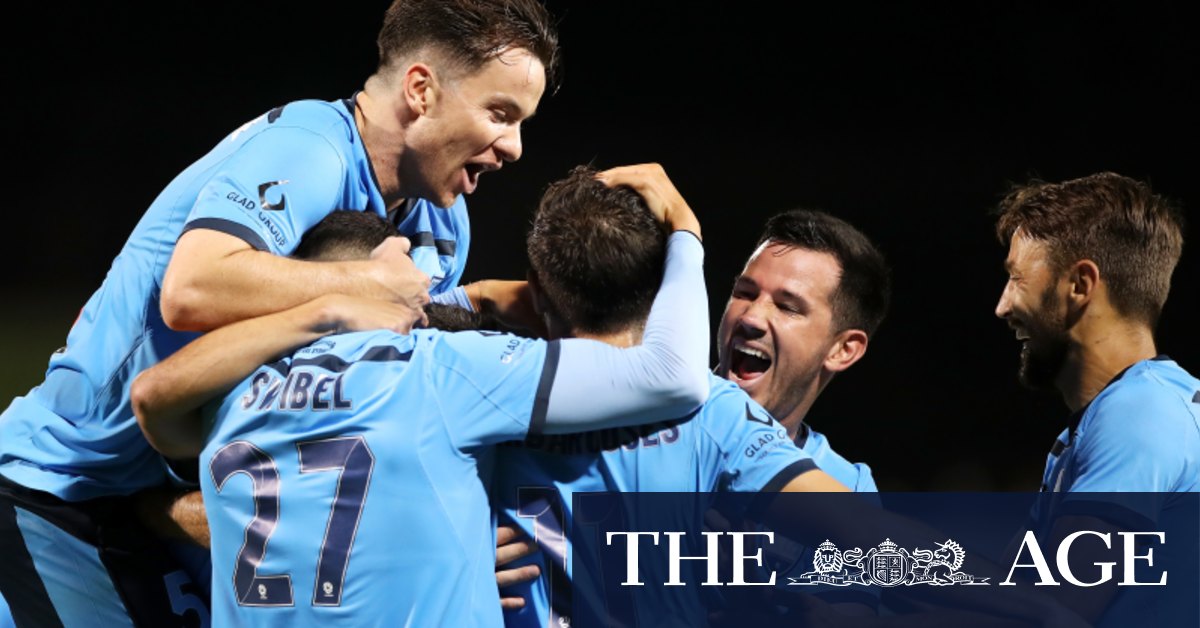 The New Zealand international smashed home his second goal in the 64th minute from the edge of the penalty box after a long ball from Andrew Redmayne was flicked on by substitute Jordan Swibel.
"I've always said he's worked extremely hard for the team, but obviously a striker needs to score and that's definitely good for his confidence," said coach Steve Corica. "He took both of them really well and I'm really pleased for him."
The Phoenix started brightly, testing Redmayne's reflexes with a flurry of early chances, and continued to probe in the second half with skipper Ulises Davila at the forefront of their attacking play as usual.
Davila even had his own cheer squad, with a crew of flag-waving Mexican expats on hand in Kogarah to show their support for the former Chelsea prospect.
Three minutes into the second half, Davila almost gave them the moment they were hanging out for when he clattered the woodwork in a let-off for the Sky Blues – although he gave them what they came for with a spectacular long-range shot in stoppage time that deflected past Redmayne.
It sparked a chase for an unlikely equaliser for Wellington, and they came agonisingly close in the final moments when a header from Louis Fenton landed on top of the crossbar.
The only sour note for the hosts was a late injury to Chris Zuvela, who had to be stretchered from the ground in the dying moments after landing awkwardly from a challenge on Tim Payne. Zuvela immediately went down clutching his knee and, having only recently recovered from an ACL rupture, will be desperately hoping history hasn't repeated.
"It doesn't look good," Corica said.
"He felt something go in his knee, and it's the opposite knee to what he had done last time. He's really upset in there; we're all upset for him.
"It's extremely hard. Myself as a player, I did it – I had two operations straight after each other, so I know what he's going through. We don't know, so we'll wait. We're all staying positive for him."
Loading
The pressure was on Barbarouses to find his touch in front of goal after a lacklustre start to the season from both him and Trent Buhagiar, given that former A-League Golden Boot Bobo is closing in on his first appearance for Sydney since re-signing for the club.
Buhagiar didn't play against the Phoenix because of a knee injury, and Anthony Caceres and Paulo Retre were dropped from the starting line-up to make way for Baumjohann and the nimble Calem Nieuwenhof.
The changes worked for Sydney, who now have three wins from their first five matches, although they could be without Buhagiar for up to three weeks, with Corica revealing post-match that he may need a minor clean-out operation on his knee.
Wellington, despite a series of aesthetically pleasing performances, are just goal difference ahead of bottom-placed Melbourne Victory on four points.
"It's frustrating, and disappointing the boys don't reward themselves with the opportunities they create," Phoenix coach Ufuk Talay said.
"The first 15, 20 minutes, we played some really good football, created a couple of opportunities . . . this game is about being clinical in front of goal, because it's a very tight game against Sydney FC, always."
Vince is a sports reporter for The Sydney Morning Herald.