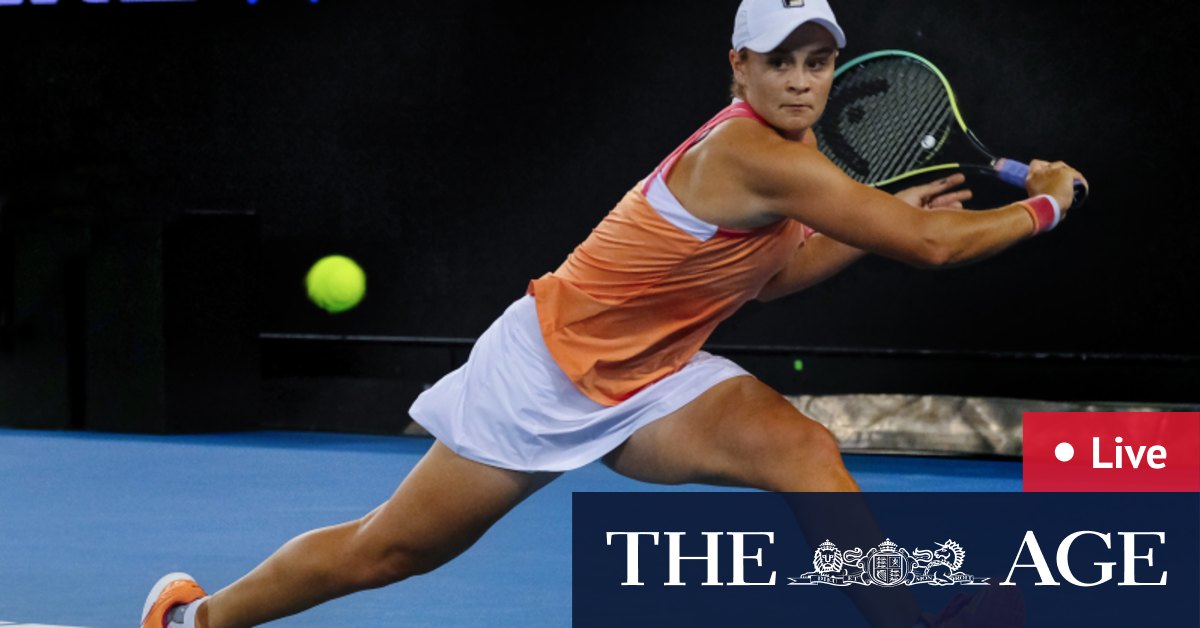 Here is a look at the major results from today's singles match-ups.
That's all for tonight!
Another good day for the Aussies. Ash Barty and Daria Gavrilova will clash in the second round. Thanasi Kokkinakis has a tough ask against Stefanos Tsitsipas, but it was great for him to get a first-round win today.
The performance of the day goes to Alexei Popyrin who survived four match points to beat David Goffin. Alex De Minaur also won in straight sets over Tennys Sandgren, while Rafael Nadal got through his match unscathed.
Unfortunately Jordan Thompson had to retire hurt in his first-round match today.
Thanks for following, see you back here tomorrow for the start of the second round.
Hey, that was a really good first set. The second set you made it a little more difficult for yourself, didn't you?
Yeah, it did, didn't it? It was a bit close for my liking, but I fought my way out of it. The crowd didn't want a third set, so, yeah….
It is obviously great to have people back in the stands and having every single one of them cheering for you.
It was awesome. I was surprised by this atmosphere, to be honest. I didn't know what to expect, but I'm very…(CROWD CALLING OUT) I'm very impressed. I didn't think so many people would come and watch me.
You got a bit toey before the match, waiting for the guys to finish. You were walking around like a cat on a hot tin roof. It is difficult to wait?
Yeah, I'd rather be first on. It was a long day. I wake up very early, so I was up around 7 in the morning and I was like, "Oh, God, I've got to be up to" – what is it, midnight? 11:30? Yeah, last night I was in bed by 11:30 and I thought, "I have to play that time tomorrow night. I was almost going to wear my pyjamas.
This is the question you asked me to ask you.
Oh, yeah.
Tell me about your bracelets.
I've been making my bracelets. I have an Instagram page for it. It is called 'Dash.lets'. Yeah. I'm planning to do like a charity, so, yeah, long story. Long story.
The other good part of the bracelets, it helped one of your comrades over the line today.
Samantha Stosur, I made her one, and she won. So…
So they work, the bracelets…
It works.
Congratulations. Ladies and gentlemen, let's hear it for Daria Gavrilova. 6-1, 7-5.
"Team Gavrilova there will be happy, as will Dasha," commentator Casey Dellaqua said.
"Such a strong performance from her tonight.
"Really controlled, really measured in how she went about the match tonight, and also I was really impressed with her mentality.
"She was challenged there at different times, particularly in the second set, but she stuck to what she does well, and that's look for a forehand. She hit 31 winners of the forehand."
It's now 15-30 at 6-5 for Daria Gavrilova…
And Gavrilova lands a massive smash to make it 15-40.
Two match point opportunities now for the Aussie wildcard…
And that's it! Game, set, match. It's a 6-1, 7-5 win for the Russian-born Aussie.
Casey Dellaqua says it's important Daria Gavrilova finds the mental ability to close out this match.
"When you are in a moment like in the match when you are 6-1, 5-3 up, this is where the mentality and how you go about the rest of this set comes into play," Dellaqua says.
"Just letting out more energy, going back to focusing on how you were winning points, how you were setting up points, how you were setting up points to get yourself a forehand you were doing so well, not panic."
Meanwhile, Sorribes Tormo has two break-point chances now, courtesy of more unforced errors from Gavrilova…
The Aussie saves one of them…
And after yet another brilliant rally, in which Gavrilova lobs Sorribes Tormo, the tweener from the Spaniard doesn't get over the net. Deuce.
Two massive winners from Gavrilova to round off the game! She's pumped up! It's 6-5.
Two unforced errors to start the service game for Daria Gavrilova.
The Aussie is perhaps tightening up as the game nears an end for her. But Sorribes Tormo is doing a good job to keep this game alive, attacking where possible.
Again, Gavrilova goes aggressive, pressing up to the net, and Sorribes Tormo's backhand hits the net. 30-15.
Gavrilova begins a rally but hits an unforced error into the net. 40-15.
The last point is a brilliant rally, with both players landing blows that could have won the point, but Gavrilova goes long with an attacking forehand.
It's 5-5 in the second set.
It's 5-3 in the second set and Aussie Daria Gavrilova is serving for the match…
First point is a beauty, both players at the net with Sorribes Tormo getting the points. That will be in the highlights package.
But Gavrilova makes 15-apiece with a thrasing forehand winner.
Both players exchange blows in the next rally, but Sorribes Tormo approaches the net and Gavrilova can't keep the ball in play. 15-30.
Gavrilova goes aggressive on the next point but misses an open court. 15-40.
And Sorribes Tormo breaks back after Gavrilova hits a forehand into the net. It's back on serve at 5-4.
While we're in this second-set tussle, I thought I'd give you the order of play for tomorrow's second round singles matches.
On Rod Laver, from 1pm, Serena Williams will play Nina Stojanovic. That match will be followed by Novak Djokovic and Frances Tiafoe. At night, Namoi Osaka wil take on Caroline Garcia, with Alexander Zverev and Maxime Cressy to follow.
Other highlights include Nick Kyrgios against Ugo Humbert on John Caine Arena from 7pm.
Grigor Dimitrov will take on Aussie wildcard Alex Bolt at night, after Simona Halep faces Aussie Ajla Tomljanovic.
Stan Warwinka, Petra Kvitova and Dominic Thiem also have second round matches tomorrow, while Bernard Tomic faces a tough task against Denis Shapovalov.
An vital response from Sara Sorribes Tormo.
Just like Sorribes Tormo's last service game, Daria Gavrilova has double-faulted to gift her opponent the break back.
The second set is now back on serve at 3-2 in Gavrilova's favour.
A massive moment in this match; Daria Gavrilova has claimed the first break of the second set.
Again, she's getting up to the net to apply pressure to her opponent Sara Sorribes Tormo.
The Aussie had been unable to capitalise on two break-point opportunities, but a double-fault has given her the break. She leads 3-1 in this second set.