Professor Robert Booy, Professor Mary-Louise McLaws and Associate Professor Senanayake spoke at the National Press Club on Wednesday about the coming vaccine rollout challenges as more countries begin vaccinating their communities.
Loading
Because of the varied vaccine rollouts across the world, epidemiologist and infectious diseases expert Professor McLaws does not see Australia's borders opening before next year.
"We all need to be vaccinated and we need to help our neighbours as well. I mean, we are in the Asia-Pacific area. A lot of families come from this area and we need to help them so they're safe and we're all safe," she said.
New strains were another problem with reducing the danger from COVID-19. But all the experts agreed it was important for people to be immunised with any COVID-19 vaccine the Therapeutic Goods Administration approves.
Public health expert and former head of clinical research at the National Centre for Immunisation Research and Surveillance Professor Booy said both the Pfizer and AstraZeneca vaccines will be crucial, and the vaccine strategy would still work if AstraZeneca was not approved for those aged over 65.
"The [Therapeutic Goods Administration] have more information than any of us have, we're studying this as hard as we can," he said.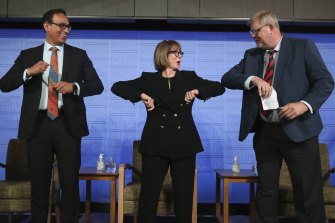 "Personally, I think healthy older people would benefit, but stronger responses are given to the Pfizer vaccine, and we're aiming to give particularly people with lots of comorbidities, and lots of
illnesses who are older, that vaccine."
Professor McLaws stressed the AstraZeneca vaccine was "very safe" and would help protect people from severe infection.
But the vaccine rollout will be complex. Professor McLaws calculated that Australia will need to vaccinate between 160,000 and 190,000 people a day in order to vaccinate the majority of the population within 10 months.
Loading
"It's an enormous undertaking, and it can be done, but I would stress to everybody in Australia that when it's your turn to get vaccinated, get vaccinated," she said.
Professor McLaws said Australia's "low tech" strategies for keeping the pandemic at bay, including hand washing, social distancing and mask wearing, will continue to be important even as the population gets vaccinated.
"This vaccine is not a silver bullet," she said.
"I'd remind everybody when they do have their injection – don't rush out and take your mask off if you're asked to wear it. Be COVID-safe."
Rachel Clun is a federal political reporter at The Sydney Morning Herald and The Age, covering health.