And that's a wrap from us on day four of the Australian Open. The rain looks like it should ease off by about 6am AEDT, and we're expecting a cooler top of 24 degrees in Melbourne.
Tomorrow, the big names on Rod Laver Arena include Serena Williams, Simona Halep and Novak Djokovic. On Margaret Court Arena, fans will see Garbine Mururuza and Grigor Dimitroz.
John Cain Arena will play host to Naomi Osaka and Diego Schwartzman during the day, and the headline match between Aussie Nick Kyrgios and Dominic Thiem will be saved for the prime time Friday night slot.
I'm Hanna Mills Turbet and it's been a pleasure been with you this evening. We'll be back tomorrow with all the news from Melbourne Park. Good night!
In a quick interview on court after his win, Rafa admitted he hadn't seen his young American opponent play before.
"Yesterday, on the day off, I was watching some videos of him on YouTube, trying to know a little bit more about him. And every day when you go on court, everything that happen, you can win, you can lose, so you need to be ready…"
Nadal also confirmed his maturing years (Nadal is 34) had focused his attention on his backhand.
"Of course, when I was younger, I was able to run everywhere," he said. "Now I need to have better shots on the backhand and it is an important shot for me now when I'm playing well, the backhand. Then the court opens better for me because normally I can produce angles with the forehand. But when my backhand is working, then normally I am able to play much better."
The Spaniard was also asked about the unruly fan who was ejected in the second set.
"OK. Now there was someone in the crowd, you didn't know her, did you? This lady," John Fitzgerald asked Nadal.
"No, and honestly, I don't want to know," he said to laughter and applause from the crowd.
It's another straight sets win for Rafa Nadal. Thank goodness, because I don't think anyone needed another five-setter today.
Interestingly, on a night in which the roof was closed and the mask policy came into play, Rafa's opponent, American Michael Mmoh, donned a black mask as soon as he reached his bags and wore it off the court.
The final score was 6-1, 6-4, 6-2.
Mask on her chin, arms in the air and way too much talking during play.
One tennis fan caused a huge disturbance during the closing stages of the second set between Rafael Nadal and American Michale Mmoh.
After giving Rafael Nadal the finger and then yelling as he served out the final game of the set, the woman was escorted from Rod Laver Arena to cheers from the crowd and some obvious relief from Rafa, the men's No. 2 seed.
And that's a wrap for Daniil Medvedev. The Russian has won his 16th consecutive match in a straight sets victory over Spaniard Roberto Carballes Baena in well under two hours.
The final score: 6-2, 7-5, 6-1.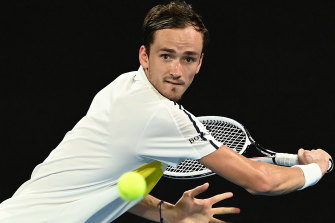 The drama at Melbourne Park continues. A loud-mouthed tennis fan has been ejected from Rod Laver Arena after yelling obscenities at Rafael Nadal.
"A bit inebriated," was the Nine commentary team's assessment.
Nadal responded to the carry-on with toothy smiles, some ball antics – and two aces to take out the second set 6-4.
We'll bring you the video shortly.
Here was how Sam Stosur's Australian Open dream ended a short time ago.
The Aussie lost to American Jessica Pegula in straight sets: 0-6, 1-6.
It's 10.40pm AEDT and just two matches remain on this hot but rainy night in Melbourne.
Rafa Nadal won the first set against qualifier Michael Mmoh, 6-1. It was quick, but clearly a little sweaty out there as the Spaniard felt the need for another shirt after just one set.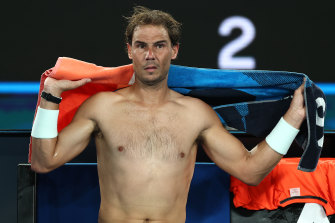 The second set is much closer as the American finds his feet against the tournament's second seed.
And over at John Cain Arena, it was a similar story.
Russian Daniil Medvedev, the tournament's fourth seed, took the first set 6-2 from another Spanish player, Roberto Carballes Baena.
After a decent fight back in the second, Carballes Baena eventually lost the second set 5-7.
It just isn't Sam Stosur's night. Her American opponent, Jessica Pegula, has not put a foot wrong tonight on Margaret Court Arena.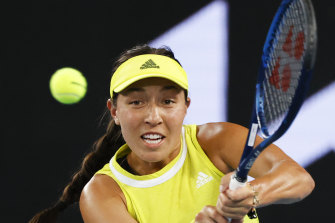 Pegula raced through the first set to win it 6-0, and then dropped just one game in the second, winning it 6-1. The match lasted just 50 minutes.
Stosur's departure from the tournament leaves just one Australian women left in the tournament: the women's No. 1 Ash Barty.
Sixteen-year-old Coco Gauff has crashed out of the Australian Open.
The American teen lost to Ukrainian Elina Svitolina, the tournament's fifth seed, in straight sets 4-6, 3-6.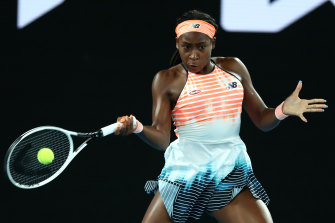 The match on Rod Laver Arena lasted one hour and 17 minutes.