House impeachment manager Jamie Raskin is concluding his presentation by imploring senators to consider how much worse it will be if Donald Trump is acquitted and continues to incite his supporters to carry out more violence.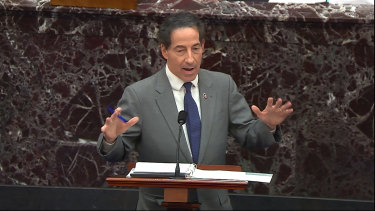 This is a direct plea to Republicans who might privately fear Trump's political revival and the effects that would have on right-wing voters.
"If we don't draw the line here, what's next?" Raskin asked jurors.
"What makes you think the nightmare of Donald Trump and his law-breaking and violent mobs is over?
"If we let him get away with it and then it comes to your state capitol or it comes back here again, what are we going to say?
"So if he gets back into office and it happens again, we'll have no-one to blame but ourselves."
House impeachment manager Jamie Raskin is now making the case that Donald Trump had a long history of "explicitly sanctioning" and "conditioning" his supporters to carry out violence.
Senators are being shown clips of Trump endorsing instances of violence carried out by supporters and at his rallies.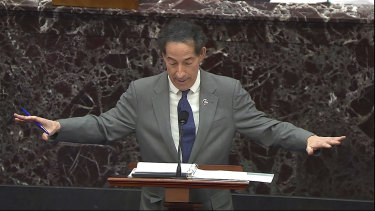 These included Trump praising a Republican candidate who assaulted a journalist, praising Klansmen and neo-Nazis and Proud Boys as "fine people", and describing an attack on a black protester as "very appropriate".
Raskin pointed out that "appropriate" was the same word Trump used to defend his own actions on January 6.
"Time after time he encouraged violence … so there's a pattern staring us in the face," Raskin said.
DeGette is presenting a string of video clips of numerous rioters saying they behaved the way they did because they were following Donald Trump's instructions.
She says it's "uncanny" how the insurrectionists repeated the same slogans, including Stop the Steal, that Trump had been saying to them.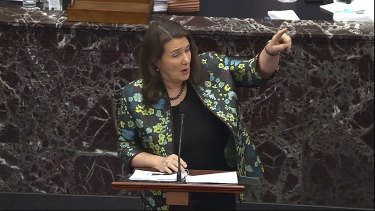 "They said what Donald Trump said and they echoed each other," she said.
She concluded by urging senators not to take her word but those of the rioters who all declared they were following Trump's urgings.
"They said so, they were invited here, they were invited by the president of the United States," DeGette said, as she played a final clip of rioters yelling: "We were invited here."
The Senate is now sitting and the impeachment hearing is back in session.
House impeachment manager Diana DeGette is presenting evidence to show that the rioters believed that their violent actions were for Donald Trump.
DeGette was in the Capitol building on January 6 and is recalling the terror and evacuation of the building.
She showed a photograph of what she saw as she was evacuated from the building.
"This is what I saw, the SWAT team pointing automatic weapons at marauders on the floor," she said.
"Looking at these people makes you wonder, who sent them here?"
DeGette says she will show evidence from a completely different perspective – that of the insurrectionists.
She says the reason so many of them posted images and video online of them participating in the illegal violence was that they believed they were doing so on the president's behalf.
"They actually believed they would face no punishment," DeGette told senators.
The most compelling aspect of the Democrats' case against Donald Trump was just how forensically they laid out the former president's own words, tweets and messages to his supporters and the latter's subsequent actions.
Read more: Trial highlights: Harrowing footage, focus on Trump's words
It was in stark contrast to the rambling and incoherent performance of Trump's own lawyers on day one of the proceedings, as they failed to stop the impeachment hearing in its tracks.
Below you can watch back some of the most dramatic footage presented to jurors:
And don't miss this analysis from our Washington correspondent Matthew Knott: 'We have the goods': Democrats deliver compelling Capitol riot footage
President Joe Biden has made his first comments on the impeachment hearing since the Democrat House managers presented their first full day of arguments.
Biden said that he, like other Americans, saw details of the hearing on the news and not live.
"I think the Senate has a very important job to complete and I think, my guess is, some minds may have been changed, but I don't know," Biden told reporters inside the Oval Office.
The President's comments are in direct contrast with those made by Republican Senator Lindsey Graham who claimed that the "not guilty" vote in favour of Donald Trump had grown as a result of the Democrats' presentations to jurors.
House impeachment managers will present their concluding arguments and possibly more evidence that has not been previously aired.
It is expected their closing presentations will focus on the lack of remorse shown by Donald Trump over the deadly riot and his failure to call it off.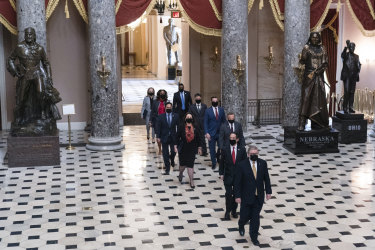 The Democrats have a total 16 hours to present their evidence and used less than half of that on day two of proceedings. That's likely to be the case again on day three.
Trump's lawyers have been allocated 16 hours to mount their defence.
In short, no.
Two-thirds of the Senate is required to convict the former president and that number has always appeared unlikely, especially after 46 of the 50 Republicans voted that the hearing was unconstitutional on Tuesday.
Senator Lindsey Graham told Fox News that the "not guilty vote is growing" as a result of the Democrats' evidence.
"Most Republicans found the presentation by the House managers offensive, and absurd," he said.
Republican Senator Marco Rubio also told Fox News that while the attack was "horrifying," impeachment was not appropriate given that Trump was no longer in office.
Hello and welcome to our rolling coverage of Donald Trump's impeachment hearing.
I'm Latika Bourke and I'll be taking you through day three of the Senate hearing, which kicks off around noon local time, or 4am AEDT.
Day one was consumed by legal arguments about whether it was even constitutional to try the former president. Six Republicans combined with the Democrats to rule that the impeachment was constitutional and could proceed.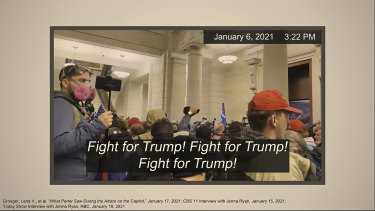 Day two proved explosive as the Democrats laid out their case against Trump, accusing him of inciting the January 6 riot on the Capitol and directly linking his words with the violent and deadly consequences of that day.
They presented never-before-seen footage recorded by security cameras inside the building that showed the full scale of the terror, chaos and violence.
Also played were panicked radio messages between police, as well as audio of Nancy Pelosi's staffers as they hid from the rioters rampaging the building. The rioters were hunting for the House Speaker whom they called "crazy Nancy" – the same nickname used by Donald Trump.
The images showed just how close several high-profile US politicians, including Pelosi, the vice-president Mike Pence, Democrat Chuck Schumer and Republican Mitt Romney came to the mob.
Read more from our Washington correspondent Matthew Knott: 'Inciter-in-chief': Democrats launch impeachment trial case against Trump
Recap our live coverage from Thursday: Trump impeachment as it happened: Trial adjourned as former US president probed over inciting Capitol Hill riot