Kyrgios and Thiem produced an action-packed entertaining epic in their third-round meeting. Sit back and enjoy the highlights.
Djokovic spoke to Colin Fleming on the court after the match…
Q: Novak, wow. What an incredible, dramatic victory for you. First of all it was clear you were struggling a little bit physically. How were you feeling and how were you able to will yourself over the line in the fifth set?
A: First of all I want to congratulate Taylor for a great fight: I'm sorry that he lost the match today. Obviously – I don't know, I just tried to stay in there and I was hopeful that whatever is happening there is going to feel better and towards the end of the fourth [set] it started to feel better. In the third and fourth set I just, I don't know, I just served and couldn't do much on the return. I was just going for my shots. It was hitting two first serves and it worked. It worked well. I don't know, this is definitely one of the most special wins in my life. Doesn't matter what round it is and against who it is under these kinds of circumstances, to pull this through is definitely something I'll remember forever.
Q: Yeah and such a unique match for the way we started it, the first half if you like, with a very intense crowd, a very raucous crowd and then of course we had the break, unfortunately the fans had to leave the arena. How do you feel the crowd were impacting on the match prior to the break and did they really will you to raise your level particularly in securing the first two sets and how did you find it after the break?
A: Look, you know, obviously with bad news today that we got, everybody knew that midnight is going to be the deadline where we go into lockdown for five days so in a way it's unfortunate for the crowd that we didn't finish the match with them seeing the end. They were enjoying it certainly. On the other hand, for me, regardless of a crowd in the stands or not, I was just trying to focus on what's going on with an injury and just praying and hoping that somehow it would get better and that I'll manage to win the match which fortunately for me it happened.
Q: Next up in the fourth round you have Milos Raonic. You have an incredible record against Milos. What are your thoughts ahead of that match? I'm sure recovery will be high on the agenda?
A: I don't know, my friend. Right now I know it's a tear, definitely, the muscle. I don't know if I'll manage to recover from that in less than two days. I don't know. I don't know if I'm going to step out on the court or not. I just am very proud of this achievement tonight. Let's see what happens tomorrow.
The world No.1 breaks Fritz again in the fifth set to take out the match 7-6, 6-4, 3-6, 4-6, 6-2 in three hours and 25 minutes!
He looked gone for all money in the third and fourth sets as he looked to be really limited by a seemingly nasty abdominal injury.
But the eight-time Australian Open champion dug deep, reach down and found something special to turn the tables in dramatic fashion.
The American youngster must be kicking himself. He had a huge opportunity to take down the 17-time major winner, but failed to capitalise.
Against all the odds and all the adversity, Djokovic gets the first break of the fifth set to lead 4-2!
What an effort by the world No.1 under so much duress. He is willing himself to the finish line and fighting through the pain barrier now. What a champion player.
Fritz has taken the fourth set to level the match up two sets all.
Djokovic is clearly being hampered by a nasty abdominal injury and he is struggling to play at his best.
This could very well be the end of the world No.1 at his favourite grand slam tournament.
Fritz has hit 13 more winners (52-39) while Djokovic has committed eight more unforced errors (45-37).
The American 27th seed has also sent down nine more aces (21-12).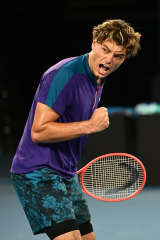 Earlier in the night, Polish No.15 seed Iga Swiatek overcame France's Fiona Ferro 6-4, 6-3 in 84 minutes.
The reigning French Open champion will now face No.2 seed Simona Halep in a blockbuster fourth-round match-up.
Incredible scenes at Rod Laver Arena with the chair umpire informing the crowd they must vacate the stadium in line with Victorian government lockdown guidelines.
Predictably, the announcement was met with a chorus of boos from the crowd. And rightfully so, the world No.1 is in serious danger of being knocked out!
Play will not resume until the stadium is free of spectators.
Kyrgios full of respect for Thiem
A huge story is developing at Rod Laver Arena!
After winning the first two sets, Djokovic is clearly struggling with an abdominal injury and after losing the third set, he is now down an early break to Fritz 2-1 in the fourth set.
Even if the world No.1 somehow manages to win this match, you would have to think that his chances of going all the way this year are in serious jeopardy now.