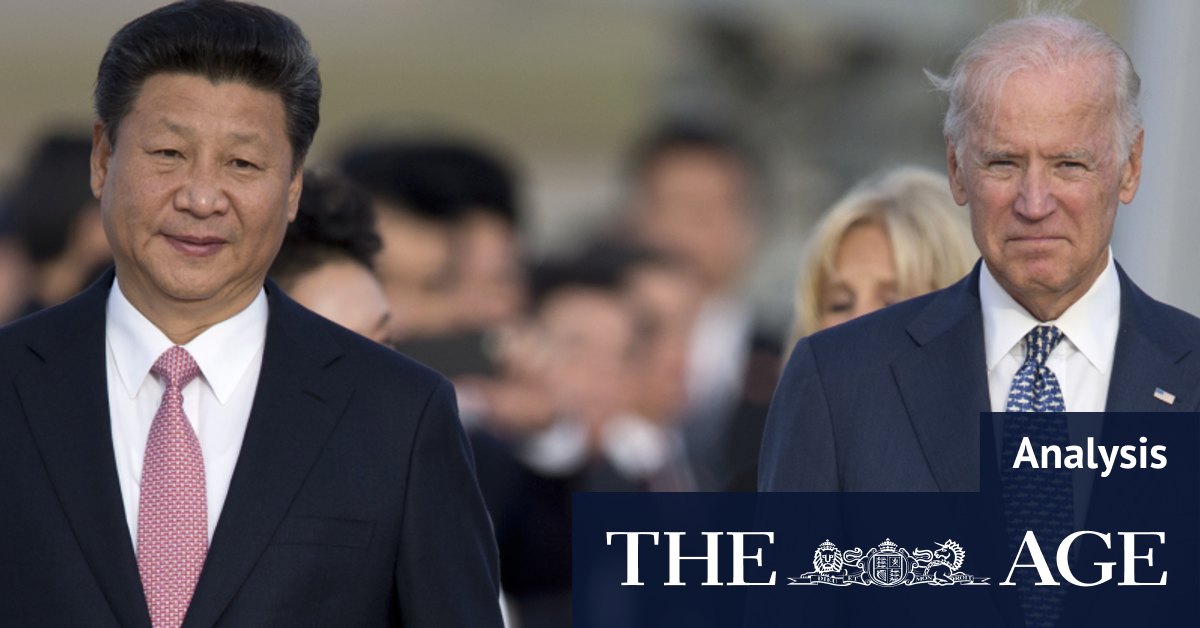 But in his phone call with the Chinese President this week, Biden criticised Beijing for its "coercive and unfair economic practices". This has been widely interpreted within the Morrison government as Biden standing up for countries such as Australia that have been hit by trade strikes from Beijing for standing up to its coercive behaviour.
Loading
Biden also underscored his fundamental concerns about China's "crackdown in Hong Kong, human rights abuses in Xinjiang, and increasingly assertive actions in the region, including toward Taiwan".
It is worth comparing the readout of Biden's call with that of his predecessor, Donald Trump, four years ago.
In his first chat with Xi, Trump made no mention of Xinjiang or Taiwan. In fact, it contained no criticism of China at all.
The White House readout said: "Trump agreed, at the request of President Xi, to honour our 'one China' policy". The discussion was described as "extremely cordial" and both leaders looked forward to "further talks with very successful outcomes". Trump's subservience was enough to make you sick.
Loading
The stark difference between the two calls is partly due to the centre of gravity in Washington shifting immensely over the past four years on the question of how to deal with China's rise.
But it also shows that for all of the bloated rhetoric on China from his administration, Trump was at heart a low-rent deal-maker who was happy to suck up to the Chinese President as long as he got something out of it.
In contrast, Biden has shown from the outset that while he is prepared to have constructive engagement with Beijing, certain topics are non-negotiable. These include China's democratic crackdown in Hong Kong, human rights abuses in Xinjiang, militarisation of the South China Sea and growing assertiveness against Taiwan.
This is what Biden's national security advisor Jake Sullivan and Indo-Pacific coordinator Kurt Campbell have called "competition and cooperation".
We knew Biden would be less intemperate, less America-first and more engaged with allies than Trump. What many didn't grasp, if they weren't paying attention during the US Presidential campaign, was the display of strength Biden planned to show towards China.
None of this is to say Biden's approach will provide a silver bullet for the Morrison government to improve relations with its biggest trading partner. Australia is in the diplomatic freezer and needs to find a way out on its own.
But it is in Australia's interests to have an America that accepts the optimistic assumptions underpinning the four-decade-long strategy of diplomatic and economic engagement with China have failed, and that the US is now in competition with Beijing.
This competitive posture needs to be pursued in a way that is strategic, coordinated with allies and avoids confrontation and potentially conflict.
While Trump was in it for himself, Biden has started a lot better.
Anthony is foreign affairs and national security correspondent for The Sydney Morning Herald and The Age.