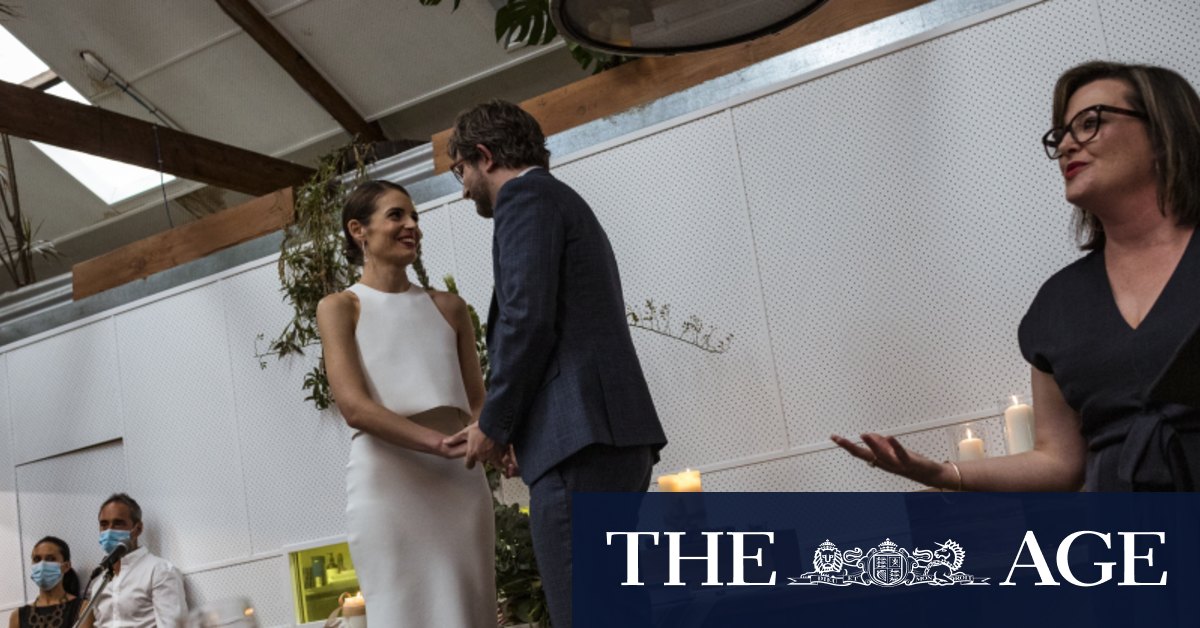 "Then we thought, 'February [would be good], apparently the the virus is stronger in winter'. And it looked good until a week ago – but then it didn't," says Ms Hyland, who like her soon-to-be husband is a public servant.
By the time Premier Daniel Andrews stood up shortly after 1pm on Friday to announce the state would go into lockdown a third time the couple had read the tea leaves and started making calls.
Credit goes to my genius partner, I was just in tears all week.

Siobhan Hyland, bride
In the space of hours they dragged their entire event – venue, celebrant, makeup, catering and even most of the guests – forward by 24 hours, determined that this time it would go ahead. The wedding kicked off at 6.30pm.
"Credit goes to my genius partner, I was just in tears all week," Ms Hyland said in a quick interview as her makeup artist arrived.
Loading
"The venue [East Elevation in Brunswick East] were so good, they raced around getting their chefs and staff, we called the celebrant, the photographer and contacted as many people as we could."
Most guests, bar those who live interstate, were able to attend, meaning the event shrank only slightly from about 70 people to nearer 60. Sadly, one of those who nearly made it, but not quite, was Mr Casey's father.
He flew into Melbourne at 2pm from north Queensland but rather than risk being locked out of his home state and potentially needing to quarantine, he decided to wait at Tullamarine before taking a 6pm flight home again.
As Ms Hyland told her unlucky, then lucky, story Mr Casey prepared to jump in the car and drive to the airport at about 3.30pm, "to have a beer with his dad and probably a bit of a cry because he can't come to the wedding".
As the clock ticked down to their long-awaited nuptials, Ms Casey described the dress she arranged nearly two years ago as "not over the top". She described her feelings as "relieved: and I can't wait to have a champagne."